Higher Education in Victorville
The UMass Global campus (formerly Brandman University) in Victorville, California, was established in 1965 to provide educational programs to the military personnel and their families on George Air Force Base. Located in the high desert, Victorville is along the old historic Route 66. Today, UMass Global shares facilities with Victor Valley Community College and is open to all students. Most of our classes hold an on-campus session once a week while all other coursework is done online. Students have the benefit of in-person interactions with professors and classmates without interfering with work schedules. A popular program is the Master's Degree in Psychology, Marriage & Family Therapy and Professional Clinical Counseling – it's accelerated, helping you to get your degree and get on with your life.
For answers regarding tuition, financial aid, transfer credits and more refer to the admissions section or call (800) 746-0082.
Office Hours
MON - THU | 9 AM - 6 PM
FRI | 8:30 AM - 4:30 PM
PROSPECTIVE STUDENTS
Phone: 800.746.0082
CURRENT STUDENTS
Phone: 760.955.7555
Fax: 760.955.7444
Welcome to the Victorville Campus
University of Massachusetts Global has been serving the Victor Valley for more than 50 years as an integral part to the Chapman University system. As the campus director, I care about your success and want every experience to be a positive one. The staff and I are committed to providing you with excellent student services throughout your educational journey from admissions and financial aid, to academic advising and coursework, to walking across the stage at commencement. It is my pleasure to support you while you are a member of our community, so please feel free to let me know how I can assist you.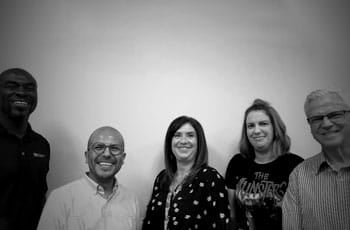 Meet with your academic advisor to develop an education plan for the year. Once you have your plan in place, work with a One Stop specialist who will assist you with the financial aid process.
MEET OUR TEAM
Victorville Campus Degrees & Programs