Tyke Hanisch DNP, APRN, FNP-C
SCHOOL OF Nursing and Health Professions
Tyke Hanisch, DNP, APRN, FNP-C
Dean and Professor of Nursing
Welcome to the Marybelle and S. Paul Musco School of Nursing and Health Professions (MSNaHP)!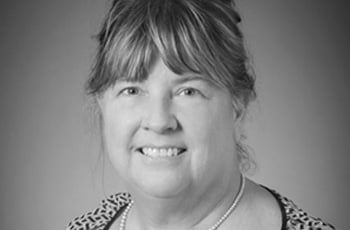 As the honored Dean of the Marybelle and S. Paul Musco School of Nursing and Health Professions (MSNaHP), I would like to thank you for visiting us. Your interest in our school indicates that you are on your way to building an outstanding future in nursing and healthcare innovation. Our nursing programs are based on the American Association of Colleges of Nursing (AACN) Essentials and National Organization of Nurse Practitioner Faculty (NONPF) Competencies. We are a Commission on Collegiate Nursing Education (CCNE)* accredited school.
Based on the founding dean's visionary legacy to "inquire, innovate and inspire" our programs challenge you to explore your own practice and discover how to transform it into evidenced-based care for best patient outcomes. In turn, your innovative changes will lead to the advancement of our nursing profession. Using a cohort model of online instruction, students are enrolled in a sequenced program of study. Each student is expected to work independently in a technology-driven environment and progress through the program to graduation. Students attend three- to four- day on-campus, regional or virtual immersive learning sessions. These sessions include intensive face-to-face classroom instruction with your cohort. Students utilize the state-of-the-art Immersive Learning and Simulation Center (ILSC) for advanced "hands-on" technical skill preparation. If you are in the Irvine, California area, we welcome you to come by and visit our ILSC for a tour and demonstration during school business hours (M-F, 9:00 am to 4:00 pm PST).
During my time as dean, my mission for MSNaHP is three-fold:
Uphold the program mission and vision of innovation and technology
Nurture the constructive, collaborative, and inspired culture for enhanced civility and scholarship
Attract, cultivate and endorse the most passionate and innovative nurses in the world
I want to thank you again on behalf of the faculty and staff of MSNaHP for considering our programs. We hope you will take time to peruse our program pages and will direct any additional questions to us.
If you feel you are a good fit for us and wish to speak with one of our enrollment coaches, please be sure to complete an information request form (IRF) found on our admissions page. We look forward to helping you achieve your professional goals!
Kind regards,

Tyke Hanisch, DNP, APRN, FNP-C

Dean and Professor
*The baccalaureate degree in nursing and Doctor of Nursing Practice degree at University of Massachusetts Global are accredited by the Commission on Collegiate Nursing Education, One Dupont Circle, NW, Suite 530, Washington, DC 20036, 202-887-6791.
---
Biography
Dr. Hanisch started her career as a BSN-prepared nurse at the University of Wisconsin – Milwaukee (UWM). She obtained her master's with n family nurse practitioner (FNP) emphasis and taught as a clinical assistant professor at Arizona State University (ASU). She later left the academic setting for 7 years of private practice, then returned to ASU in January 2001 as the FNP for the nurse-managed clinics she developed in 1993. She went on to complete her Doctor of Nursing Practice (DNP) while teaching in both the RN-BSN and DNP programs. Dr. Hanisch's interests lie in telemedicine, alternative medicine and community/public health. Her master's thesis included the development and funding for two nurse-managed health centers that provided free health care for the un- and underinsured by nurse practitioners in neighborhood centers. Her doctoral studies resulted in an evidence-based practice change in nurse practitioners in several rural clinics. She believes that nurses must take a multidisciplinary approach, based on the best evidence as well as including the patients' preferences for best outcomes. In addition to her role as a dean and professor, she currently maintains a small private practice in Phoenix, AZ.
---
Specialty
Advanced Practice Nursing
Community and Public Health
Family Practice
---
Education
Doctor of Nursing Practice
Master of Science in Nursing, Community Health Nursing and Family Nurse Practioner
Bachelor of Science in Nursing
University of Wisconsin, Milwaukee