Nursing is a career filled with options at every stage. When you first selected this field, you had to choose between a few different tracks toward becoming a nurse. You also had to decide if you wanted to pursue a nursing specialty, where to work and more. At every turn, you've weighed the pros and cons, and you've paid close attention to the various ways nursing requirements have evolved over the years.
This evaluation process continues when it comes to furthering your career with additional education. On the road to becoming an advanced practice registered nurse (APRN) or developing a particular area of expertise, you have options. You could earn a Master of Science in Nursing (MSN) or a Doctor of Nursing Practice (DNP) — both are advanced degrees that focus on clinical nursing practice.
As far as the specifics of each educational path, however, there may be more differences than you realize. The MSN vs. DNP discussion can be particularly difficult to navigate, in part because of the National Organization of Nurse Practitioner Faculties' (NONPF) call for all current nurse practitioner MSN programs to migrate to the DNP level by 2025. Current MSN-prepared professionals have also been called upon to pursue a post-master's DNP.
When it comes to determining the right path for you, it may seem like there are way too many factors to consider. But it all begins with closely examining your career goals and your lifestyle needs, and then finding a program that can accommodate those. To help you get started, we've gathered the facts and compared these two degrees. Take a look at the differences and decide for yourself which might be the best fit for you and your goals.
MSN vs. DNP: Comparing the length of education
At first, any degree program can seem like it will take a long time to complete — especially when you think about adding coursework to your already busy life. It's true that going back to school as an adult can be challenging. That said, knowing where the finish line is may give you the confidence to get started.
Whether you have an Associate Degree in Nursing (ADN), a Bachelor of Science in Nursing (BSN) or already have your Master of Science in Nursing (MSN), there is a degree path for you. Your time to completion will vary depending on the program you choose and whether you pursue full- or part-time education, but the general time frames can last anywhere between two and six years.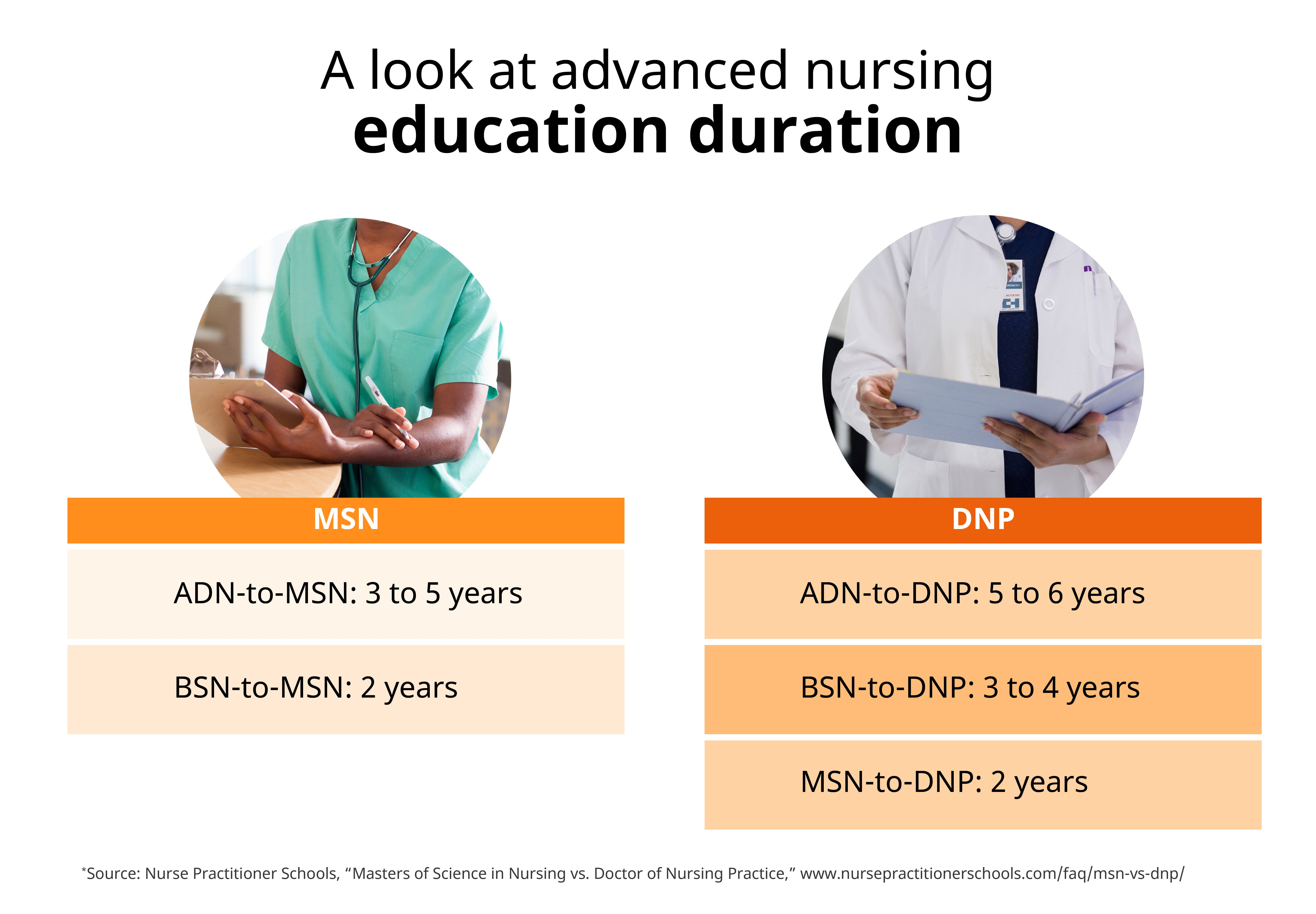 MSN vs. DNP: Variation in curriculum content
Essential elements for both the MSN and DNP, created by the American Association of Colleges of Nursing (AACN), include education in organizational leadership, professional collaboration, clinical interventions and health policy. These subjects are similar at both levels — the differences are more about depth than coverage. Both an MSN and DNP may help you develop nursing skills, establish your leadership style and hone your interests, but your ultimate nursing career goals will determine which of these two paths is the best fit.
A nurse with a BSN may choose to obtain an MSN as a means of furthering his or her clinical expertise – particularly in areas outside of direct patient care, such as nurse leadership, nursing informatics, health policy, public health or nursing education. A BSN-qualified nurse who hopes to obtain an advanced practice degree and has a desire to continue working in direct patient care would be better served going the BSN-to-DNP route.
Both degrees may offer you the chance to specialize in an area of advanced practice nursing such as psychiatric and mental health or family/individual across the lifespan health. In some cases, DNP programs may place more emphasis on leadership and technology.
Additionally, both degree paths will incorporate clinical practice hours and an application project. The specifics of these requirements will vary depending on the degree program and your area of specialization.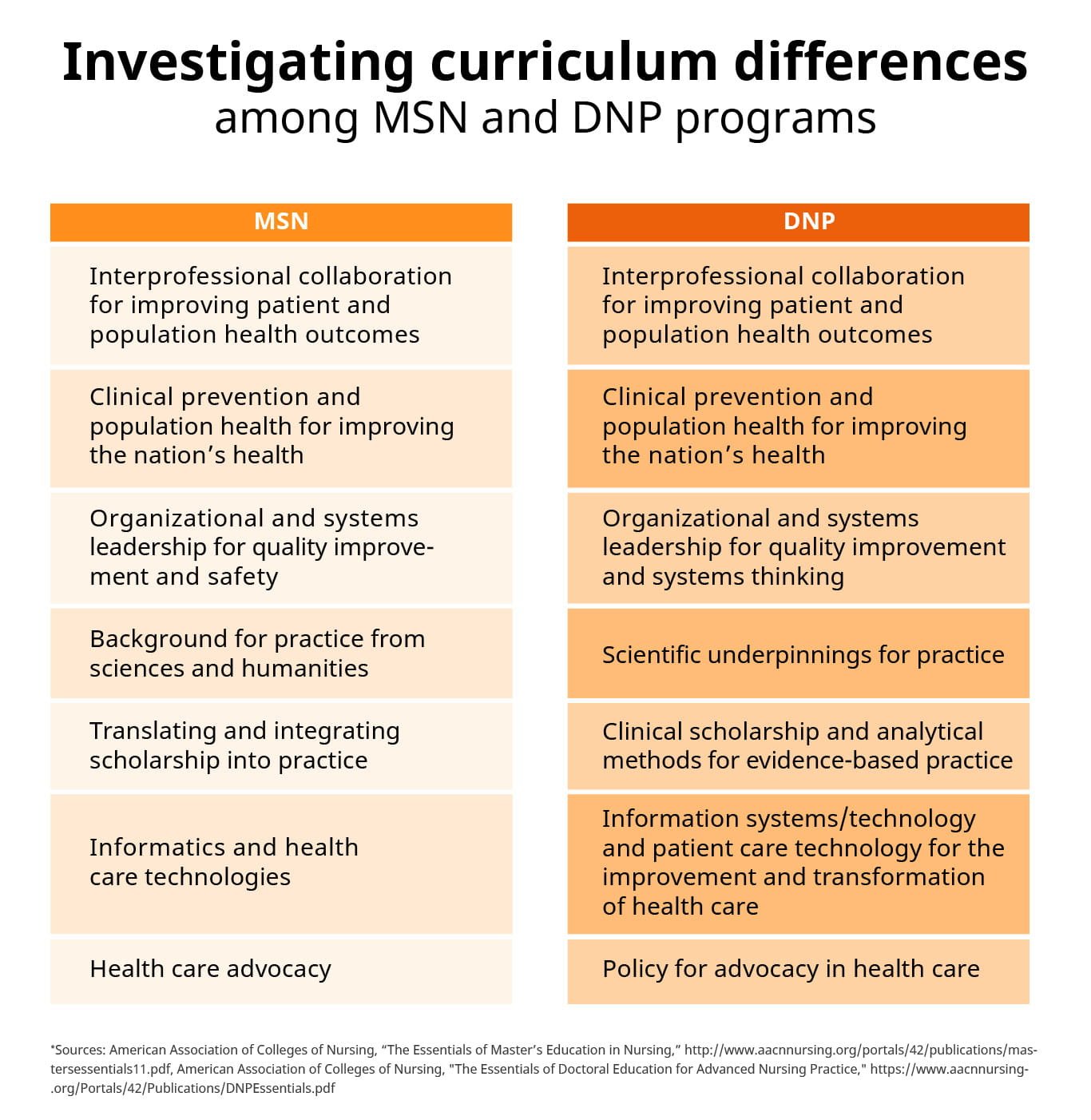 MSN vs. DNP: Differences in career options
Both MSN and DNP graduates are eligible to become advanced practice registered nurses, depending on their degree concentration. The four types of APRNs are Nurse Practitioner (NP), Clinical Nurse Specialist (CNS), Certified Registered Nurse Anesthetist (CRNA) and Certified Nursing Midwife (CNM).
While both degrees may lead to the same positions, you'll find that the difference between these paths is similar to the difference between ADN and BSN nurses. Both may initially have the same job title and salary. Over time, however, higher educational attainment is more likely to result in leadership positions and promotions.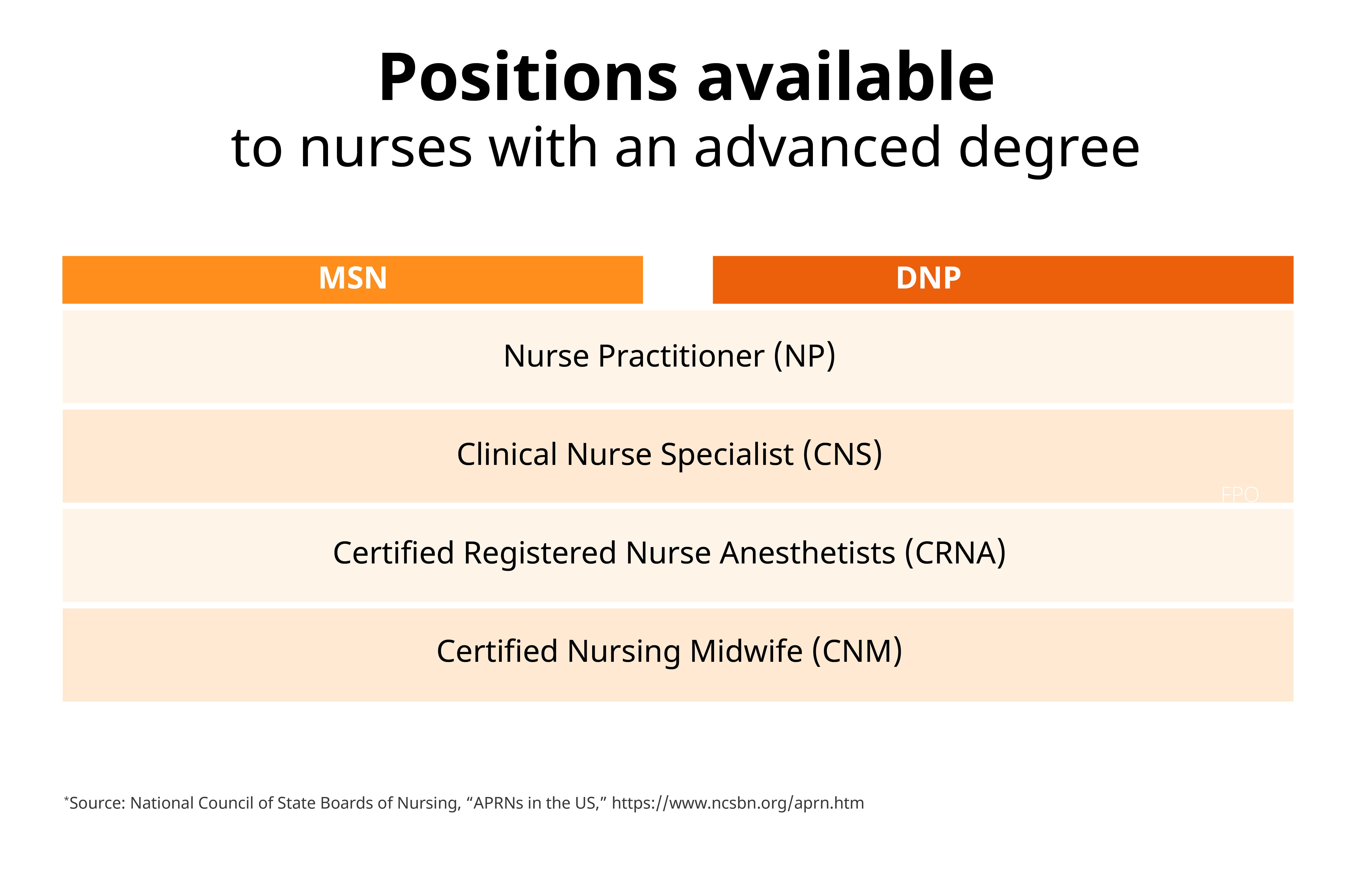 It's also important to note that DNP graduates are eligible to teach at the master's level. If you're interested in exploring the possibility of becoming an instructor, you might want to seriously consider obtaining a DNP.
MSN vs. DNP: Compensation considerations
A 2019 Medscape compensation report shows the average annual gross income for APRNs with a doctoral degree was 5 percent higher than those with a master's degree. While the report did not specify MSN and DNP graduates in particular, it's commonly understood that more experience and greater educational attainment are commensurate with higher wages. This can put DNP graduates in a better negotiating position.

Your next step is one decision away
MSN and DNP degrees have a lot in common. They both teach students about advanced nursing practices, policies and leadership. In the end, the choice of MSN vs. DNP is up to you. Regardless of the path you choose, your decision to keep growing as a nurse can help you fill the critical need in today's health care workforce.
But by now, you can see that completing a DNP offers a few advantages. These programs may take a bit longer, but they can also prepare you to achieve more meaningful promotions, secure higher compensation and meet future licensing requirements.
Maybe you're feeling inspired to start down the path to obtaining a DNP. If you currently have a bachelor's degree in nursing, check out University of Massachusetts Global's BSN to DNP program offerings. If you've already earned your MSN, head over to thePost-Master's to DNP program page and see what a quality nursing education looks like.
Become a Student
Have questions about enrollment, degree programs, financial aid, or next steps?