News
UMass Global launches scholarship for students ready to start - or return to - college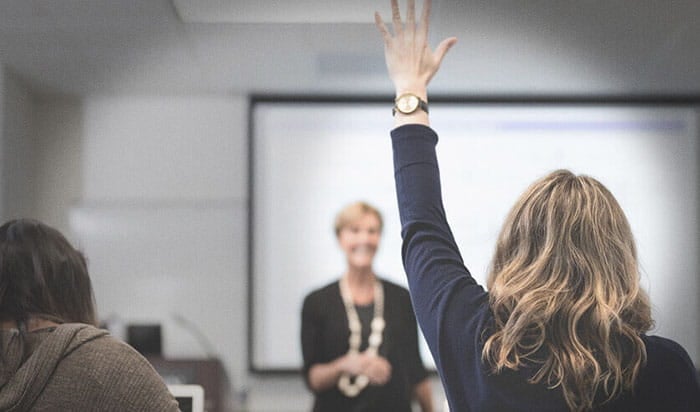 IRVINE, Calif. (April 7, 2022) – University of Massachusetts Global today announced a new scholarship designed to help working adults who spent the pandemic years contemplating how higher education can help them get ahead in life by completing college. The new UStart Scholarship can reduce recipients' tuition costs by as much as 30%.
"We agree with the notion that the end of the pandemic should be the beginning of a better era, not just 'back to normal,'" UMass Global Chancellor Gary Brahm said. "The UStart scholarship is our way of encouraging people who have spent the last couple of years thinking about completing a degree to go for it."
The UStart Scholarships are available to students who will soon begin a UMass Global undergraduate degree program. The university will also offer UStart Scholarships to students who resume progress toward a degree after a gap of at least two years from UMass Global. To receive a scholarship, students must enroll for either of the university's two summer 2022 terms or its first fall 2022 term.
The university advises prospective students who wish to receive the UStart Scholarship to apply by August 15. Additional information is available from the UStart Scholarship website.
UMass Global, now a private nonprofit affiliate of the University of Massachusetts system, operated as Brandman University prior to September 2021. The university retained Brandman's academic programs, as well as its regional and programmatic accreditations. Returning students who began degree programs while the university operated as Brandman can expect a very similar learning experience at UMass Global.
National imperative to help students return to college
Strada Center for Education Consumer Insights observed in May 2021 the COVID-19 pandemic had, as of that time, forced more than a third of U.S. adults to alter or cancel their higher education plans. Strada also recorded a dive in the percentages of adult students experiencing a pandemic-related impact on their educations who remained enrolled, or who planned to enroll, from spring 2020 to spring 2021. Strada called this trend nothing less than "a national crisis of learners who appear to have given up their pursuit of learning."
This does not mean would-be students lack motivation, as a separate UMass Global-commissioned poll of 2,000 U.S. parents shows. Nearly two-thirds of respondents to this poll expressed the view that living through the COVID-19 pandemic led them to the realization that life is too short to delay the pursuit of their aspirations.
Supporting students and partners
UMass Global is offering UStart Scholarships to students selecting hybrid and entirely online programs, as well as UMass Global MyPath programs offered via the university's competency-based modality. UMass Global plans to resume in-person components of hybrid programs on May 2.
The new scholarship awards provide recipients in traditional credit-bearing programs with credits worth 30% of the standard price of tuition. That adds up to $450 per three-unit course, and a recipient who needs 120 units to complete a degree could receive awards worth $18,000 over their enrollment. Recipients who select self-paced UMass Global MyPath programs can receive awards worth $400 for an entire academic year of access to their chosen program. This would reduce annual tuition costs from $6,400 to $6,000.
UMass Global also plans to award UStart Scholarships to students who enroll via employer-university partnerships. UMass Global partners offering educational assistance as a workplace benefit make upfront tuition payments for their employees, so UStart can reduce employers' costs.
Employers who establish new partnerships with UMass Global in time for members of their workforces to apply for the scholarship will also be able to benefit from the program.
"UMass Global degree programs confer relevant knowledge and skills, enabling graduates to perform at high levels in the worlds of business and public service," Executive Vice Chancellor for Enrollment and Student Affairs Saskia Knight said. "As we all look forward to the post-pandemic era, we hope prospective students and employers looking for talent development partnerships will agree the time is right to get started with educational programs helping people to progress toward long-term goals."
ABOUT UNIVERSITY OF MASSACHUSETTS GLOBAL
University of Massachusetts Global, formerly Brandman University, is a private, nonprofit institution accredited by the WASC Senior College and University Commission. The university offers undergraduate, graduate, credential, and certificate programs designed to be relevant to more than 90 career paths. UMass Global serves nearly 23,000 students, about 16,000 of whom are enrolled in academic credit programs, at 25 physical campuses in California and Washington, as well as online. UMass Global offers fully online courses for students anywhere in the United States and for military personnel serving abroad. For more information, visit the university's website.
Media Contacts:
Terri M. Carbaugh, UMass Global Vice Chancellor of Public Affairs: [email protected]
Andrew Edwards, UMass Global Senior Multimedia News Writer: [email protected]
Become a Student
Have questions about enrollment, degree programs, financial aid, or next steps?