Get the Benefit of a Degree.
Learn how this partnership with University of Massachusetts Global provides access to benefits, scholarships, and grants for working adults just like you!
UMass Global is a proud partner with
County of Riverside
The education you seek made more affordable.
Here are the discounts you qualify for at UMass Global.
Finding the time and money to go back to school while still working is a challenge. But thanks to your employer partnering with UMass Global, you can get the degree or certificate you seek, upgrading your skills and improving your career outlook. And you can do so at significant savings. Plus, our online coursework fits into the busiest of lives!
Because your employer is a Marquis Partner with UMass Global, these are the scholarships available to employees and their spouses and dependents:
20% Scholarship
Associate degrees
Bachelor's degrees
Master's degrees not listed elsewhere
Organization Custom Off-site Cohorts
15% Scholarship
Master of Arts in Teaching — various teaching credentials
Teaching Credentials — various credentials, with some exceptions
Master of Arts, Marriage/Family Therapy
10% Scholarship
Ed.D. in Organizational Leadership
Registered Nurse to Bachelor of Science in Nursing
Doctor of Nursing Practice
To learn more, attend a free online info session.
Student must be an employee/member, spouse/dependent of employee/member of a participating Scholarship Partner.
Student must be admitted to the University, start during the term of the partnership agreement, and attend during the 2023-24 academic year.
Continuing student will maintain the scholarship level that was awarded at the time of the agreement.
Interrupted enrollment will not affect a continuing student's scholarship unless the student is required to re-apply to the university. Students who must re-apply to the university will need to also re-apply to any scholarship awarded through an updated partnership agreement. The reapplying student would be subject to whichever scholarships and agreements are available to them in their specific situation at the time of the re-admit.
Student must remain in good academic and financial standing in accordance with the University's existing catalog.
Student must submit the scholarship application no later than one session immediately following the start of the student's eligibility of the qualified academic program. In addition, once the scholarship application is submitted, the scholarship will not be retroactive beyond one session.
Scholarships will be applied to the current active session/trimester based on date of receipt of the complete scholarship application packet and cannot be applied retroactively.
Student may not combine any scholarships or discounts to tuition, including military rates.
Contact us now to discover your options.
---
Education Option

About You
How will a degree help me?
Check out some fast facts on why going back to school at University of Massachusetts Global is a good option.
of police officers had an associate degree, bachelor's, master's or above.*
emergency relief jobs will require a bachelor's or higher by 2026.**
higher profit margin seen by companies that invest in employee training .****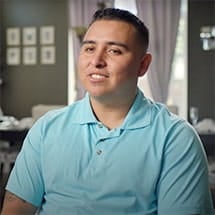 When you take those things that you learn in school and apply it, it makes so much sense how your able to lead; and then you become a better leader. Within two years after going back to school I was recognized and received a 2018 non-commission officer of the year award. And that was all, I feel, because of my education.
Jorge H.
BA in Applied Studies
*Brandman University is now UMass Global
My advice to someone going back to school is to stop making excuses and just do it. You're never going to be 100% ready and the timing is never going to be exactly perfect, which just means that every moment is an equally good enough time to start.
Kristen C.
MPA
The MPA program gives the learner what is needed to address real, important, public problems and it dives into what is means to be a successful, innovative & effective government organization.
Chip M.
Masters in Public Administration 
Ways to Learn
UMass Global offers learning formats that work for you; course-based/instructor-led or competency-based/self-paced.
Online Programs Made to Meet Your Needs
University of Massachusetts Global offers two online learning formats that can work around your busy schedule: instructor-led, course-based and self-paced, competency-based. A leader in online learning, UMass Global has more than 20 years' experience in online course development, teaching, and learning. Take advantage of UMass Global's tradition of educational excellence combined with flexible learning formats that will work around your busy schedule.
80+ degrees and certificates built from the job up to benefit working professionals.
Start Your Student Journey in 6 Simple Steps.
We can't wait to have you join our community of University of Massachusetts Global students! However, before that exciting first day of class, there are a few important steps to our enrollment process. But don't worry; we have a dedicated team of people who help working adults begin their degree completion journeys, and they look forward to helping you, too.
Get started today…
Sources:
[1], [2] https://www.umassglobal.edu/sources
*https://www.police1.com/police-jobs-and-careers/articles/state-your-case-should-prospective-cops-be-required-to-have-college-degrees-t9MXaJOawkPBvUma/
**Emergency Staffing Patterns (Health Care & Social Assistance) 2022 to 2026_US.xls
***https://www.brighthorizons.com/-/media/BH-New/B2B-Assets/WLI_report.ashx?la=en
****https://teamstage.io/training-statistics/