SCHOOL OF Education
Carlos V. Guzman, Ph.D.
Assistant Professor
PRIMARY SPECIALTY
Quantitative Research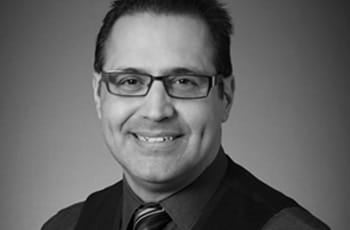 Biography
Dr. Guzman currently serves as a lead research faculty for the School of Education at University of Massachusetts Global. He is part of the Core Planning Team (CPT) responsible for immersion planning, curriculum design, faculty training and development for the Doctor of Education in Organizational Leadership program. He teaches a wide variety of research and statistics courses at the doctoral level. Dr. Guzman mentors and chairs doctoral students. His experience in mental health covers over 20 years where he provided psychotherapy services to individuals, couples, families and groups seeing a wide variety of mental health issues, including depression and anxiety. Dr. Guzman has 12 years of previous management and vocational rehabilitation experience within the worker's compensation industry conducting assessment, evaluation, and plan development. Dr. Guzman holds a Ph.D. in psychology/human science from Saybrook Graduate School and Research Center in San Francisco, an M.S. in counseling psychology (MFT) and a B.A. in psychology from California State University Fullerton. He was formerly the Campus College Chair with the University of Phoenix Southern California Campus. He provided leadership and guidance to 300 faculty members to ensure academic quality assurance for the School of Business. Dr. Guzman is a member of the American Psychological Association, as well as Saybrook and California State University Fullerton Alumni Associations and a contributing scholar for the Journal of Children and Schools for the National Association of Social Workers (NASW). Other scholarly activities include presentations on statistics and research methodology at the International Human Science Conference since 2007.
---
Specialty
Quantitative Research
Qualitative Research
Writing for Research
Diversity
EDD Doctoral Program
EDD Curriculum Team
---
Education
2003
Ph.D. Human Science
Saybrook University :
Dissertation: Creativity, Spirituality and Self-Expansiveness in the Process of Popular Music Song Writing
1993
M.S. Counseling
California State University Fullerton
Thesis: Phenomenological Study of the Challenges for Mental Health Case Managers in a System of Limited Resources
1990
B.A. Psychology
California State University Fullerton
---
Scholarly Activities
2007 -2012
Mixed Methods in the Social Sciences
International Human Science Conference :
Research Methods in the Human Sciences
International Human Science Conference
Regression and Correlation Analysis in Business Decision-Making
International Human Science Conference