SCHOOL OF Education
Hawani Negussie Ed.D.
Chair and Assistant Professor
PRIMARY SPECIALTY
Early Childhood Education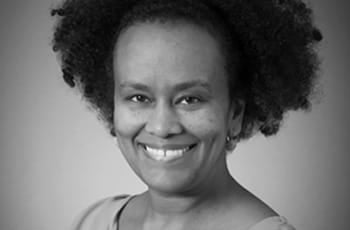 Biography
Dr. Hawani Negussie is the Chair and Assistant Professor of UMass Global Early Childhood Education program in Irvine, Ca. She has been in the field of Early Childhood Care and Education for over twenty years holding various positions in the birth-21 (PK-16) educational settings. Her practice is informed by her wide range of experiences, education, and training with leading institutions such as UCLA Early Intervention Program, UCLA Children's Hospital, Early Childhood Foundation at Cedar Sinai Medical Center and California State University Long Beach-Department of the College of Education.
Dr. Negussie offers expertise within Early Childhood Education, Child Development, Special Education, Infant Mental Health, Indigenous Education Systems, International Research, Program Development and Administration. She has demonstrated knowledge in transformational leadership, statewide program/project oversight, organizational management, teacher training, assessment/outcome including ECE curriculum and instructional design. She has provided strategic and operational leadership in the implementation of effective early learning program standards at the state and international levels. Her extensive work with children and families from various backgrounds and settings, especially those coming from underserved communities continues to influence her outlook on how to address the compounding challenges children and families face due to inequitable opportunities.
Her research interest includes examination of indigenous knowledge in early learning environments, implications of aid imposed global education policies, and using culture as a central strategy in pre-primary education. Her research has been published with international journals focused on leadership and policy.
---
Specialty
Early Childhood Education
---
Education
2014
Ed.D. in Educational Leadership
California State University, Long Beach
Dissertation:"Integration of Indigenous Knowledge and Cultural Practices in Early Childhood Care and Education in Addis Ababa, Ethiopia. An Exploratory Case Study"
2006
M.A. in Elementary Education / Early Childhood Education
California State University, Long Beach
1999
B.A. in Child Development
California State University, Northridge
Minor: Psychology
---
Scholarly Activities
2017
Negussie, H., Slater, C. (under review)
Challenges to integrating indigenous knowledge and cultural practices in early childhood and education in Addis Ababa, Ethiopia.
The Educational Forum
2015
Culture and Early Education
American Educational Research Association (AERA)
Chicago, IL
Indigenous Curriculum Development in Early Education Programs
California State University, Long Beach, Educational Leadership Symposium
2016
Board Member, Head Start Training and Research Foundation (TRF)
2015
Chair: Educational Leadership Network for Early Childhood Leaders (NECL)
---
Professional Experiences
2017
Assistant Professor
University of Massachusetts Global
Courses: Early Childhood Education, Leadership in ECCE
2016
Co-Instructor
California State University, Long Beach
Course: Leadership and Supervision of ECCE Programs
2016
Adjunct Professor
El Camino College
Course: Child Development
2006-2016
Program Director
Mattel Child Development Center
Evaluated classroom curriculum, developed action plans with classroom teaching teams and monitored progress toward goals for the leading provider of early education and preschools, employer-sponsored childcare, backup care, educational advisory services and other work/life solutions. Engaged teachers in a critical, self-reflective process during staff meetings and annual evaluations.