Business
3 Reasons to consider pursuing your HR certification online

Perhaps you've just started to think about a career in human resources (HR). Or maybe you've already laid the necessary groundwork for climbing the ladder. Either way, you're now considering a certification in the field. Because this credential isn't always a job requirement, you're not alone in questioning whether investing the time and effort will be worth it in the end.
Compensation software and data company Payscale noticed numerous professionals like you pondering this same question. The organization took this as a sign that it was worth taking a closer look at some data to analyze the true impact HR certifications can have on a professional's job prospects, salary and potential for career advancement.
Join us as we examine Payscale's findings, which can help you assess the value of prepping for your HR certification online. But first, let's learn more about your certification options.

HR Certifications: What are they?
While HR certifications are rarely required by employers, they can help convey the added value you could bring to an organization. Obtaining certification is the perfect way for current and aspiring HR professionals to distinguish themselves as experts in the field. Holding an HR certification demonstrates a candidate's competence, experience, dedication and credibility.
There are a number of different HR credentials you could pursue. To help you better understand what you can expect by getting certified, we've outlined the basics of two popular HR certifications below.
What is PHR certification?
The HR Certification Institute® (HRCI) offers a suite of credentials that are prevalent in the industry. The most popular among them is the Professional in Human Resources® (PHR) certification.
The PHR demonstrates mastery of the technical and operational aspects of HR management, including an understanding of U.S. laws and regulations. This credential path is ideal for those who have experience in professional-level HR positions, which means they're well-versed in tasks related to program implementation, are accountable to another HR professional at their organization and have responsibilities that focus on the HR department rather than the organization.
To be eligible for the PHR, you must meet one of the following conditions:
You have at least one year of experience in a professional-level HR position and a master's degree or higher.

You have at least two years of experience in a professional-level HR position and a bachelor's degree.

You have at least four years of experience in a professional-level HR position and a high school diploma.
What is SPHR certification?
Another common certification from the HRCI is the Senior Professional in Human Resources® (SPHR) credential, which is for individuals looking to solidify their place as HR leaders. The SPHR certification can help demonstrate mastery of the strategic and policy-making aspects of HR management. It's ideal for big-picture thinkers who are responsible for planning, rather than implementing, HR policy.
SPHR-qualified professionals are known for being accountable to HR department goals, having in-depth knowledge of all HR disciplines and understanding business issues that stretch beyond the general HR function.
To be eligible for the SPHR, you must meet one of the following conditions:
You have at least four years of experience in a professional-level HR position and a master's degree or higher.

You have at least five years of experience in a professional-level HR position and a bachelor's degree.

You have at least seven years of experience in a professional-level HR position and a high school diploma.
3 Reasons to earn your HR certification
Now that you know a bit more about two HR certifications, it's time to dig into some research to uncover the true value of pursuing this supplemental training. Payscale discovered the following three benefits to earning your HR certification by collecting salary and demographic information from more than 102,000 HR professionals.
1. Certification can set you apart from the competition
As you push your HR career forward, you're likely eager to do whatever you can to make yourself more competitive for some coveted positions. It's worth noting that 36 percent of surveyed professionals report having at least one HR certification. You may also be interested to know that certification increases incrementally for each tier of HR professionals. Consider that while only about 13 percent of HR administrators are certified, more than half of HR vice presidents are certified.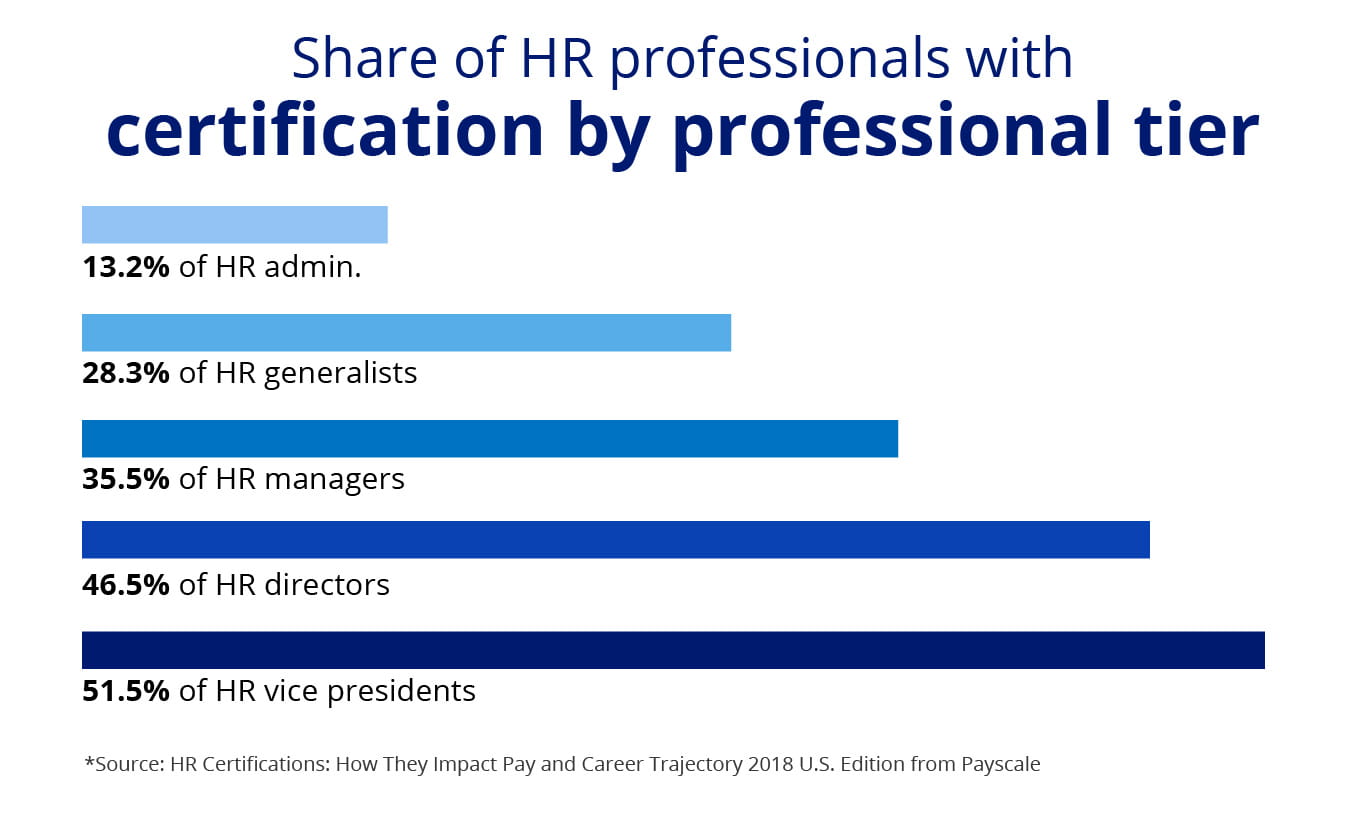 2. Certification can lead the way to higher pay
One of the most notable findings from the Payscale survey was the fact that obtaining certification can significantly impact salary. While the exact boost in pay is dependent on numerous factors — the particular type of credential, the industry, the work location and the job level — HR certifications do result in a pay increase for most professionals in this field. Over time, the impact has grown.
In 2008, for example, professionals with any HR certification saw their salary increase by an average of 17 percent. When we fast forward to 2018, we can see that professionals who obtained certification saw an increase closer to 31.6 percent.
It's also true that pay typically increases as certification level increases. For example, median pay increases by 50 percent from a PHR certification to a SPHR certification.
3. Certification can boost your chances for a promotion
Lastly, HR professionals who pursue certification will often see their odds of receiving a promotion increase significantly. This fact remains true for every job level. HR directors, for instance, become nearly 25 percent more likely to receive a promotion within five years of obtaining certification.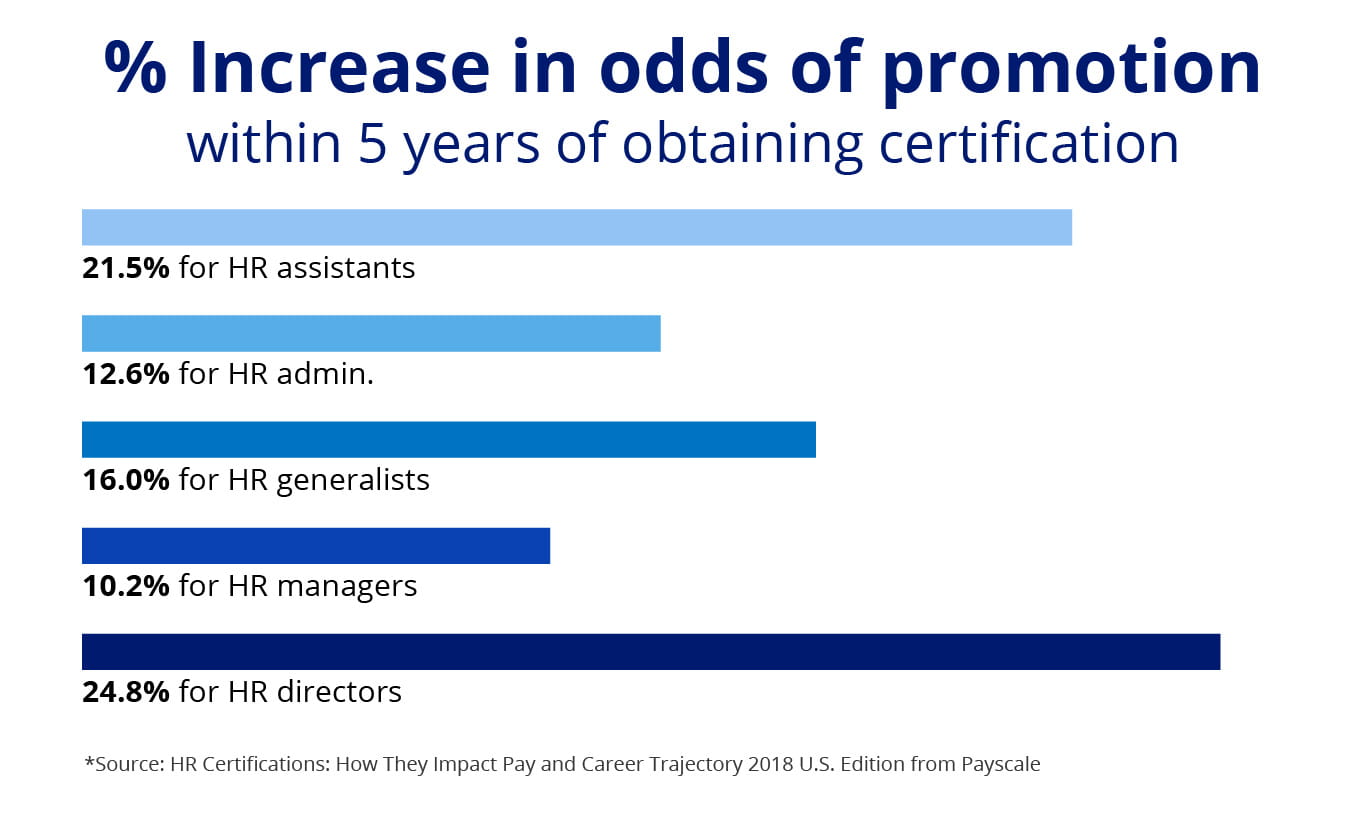 While the chance for positive career progression increases across job levels, certifications appear to matter most in the earliest phases of an HR professional's career. For example, HR assistants with at least one certification are 14 percent more likely to get promoted than those who are uncertified.
Prepare for your HR certification online
It's clear there are some real benefits to obtaining your HR certification. It can help you stand out in a competitive field and even set you on the path toward a pay raise or a promotion at your current organization.
Regardless of the specific HR certification you want to pursue, you'll need to sit for your exam in person. That said, you can participate in preparation courses fully online, which allows you to complete your coursework anywhere you have internet access.
If you're interested in completing either the PHR or SPHR exam, you could prepare for your HR certification online with University of Massachusetts Global's 13-week course. To learn more about how this fully online option could arm you with the skills and knowledge you'll need explore the Human Resources Certification Exam Preparation Program.
Become a Student
Have questions about enrollment, degree programs, financial aid, or next steps?