Work Life Balance
Self-care for college students: Learn how to prioritize your wellness

According to the American Institute of Stress, today's college population is experiencing stress at unparalleled levels. Eight out of 10 students report dealing with it frequently. Over time, that continued strain can contribute to some pretty notable issues related to both physical and mental health.
It's becoming increasingly clear that prioritizing self-care in college is a critical component of a successful higher education experience. But that's easier said than done for busy students who are inevitably juggling a number of different responsibilities in addition to their studies.
UMass Global is here to help. Join us as we discuss self-care for college students — you could uncover some practical ways to prioritize your wellness as you focus on advancing your education. You'll also walk away with some important skills that can help you learn to manage stress and regulate your emotions throughout your higher education experience, your career and your life.
The truth about stress in college students
It doesn't matter if you're a full- or part-time student, if you're enrolled in classes online or on campus, if you're in an undergraduate or a graduate program – nearly all students experience periods of stress-related anxiety and mood alteration.
When it comes to our current higher education population's mental health, there's room for improvement. The American College Health Association's (ACHA) National College Health Assessment found the following: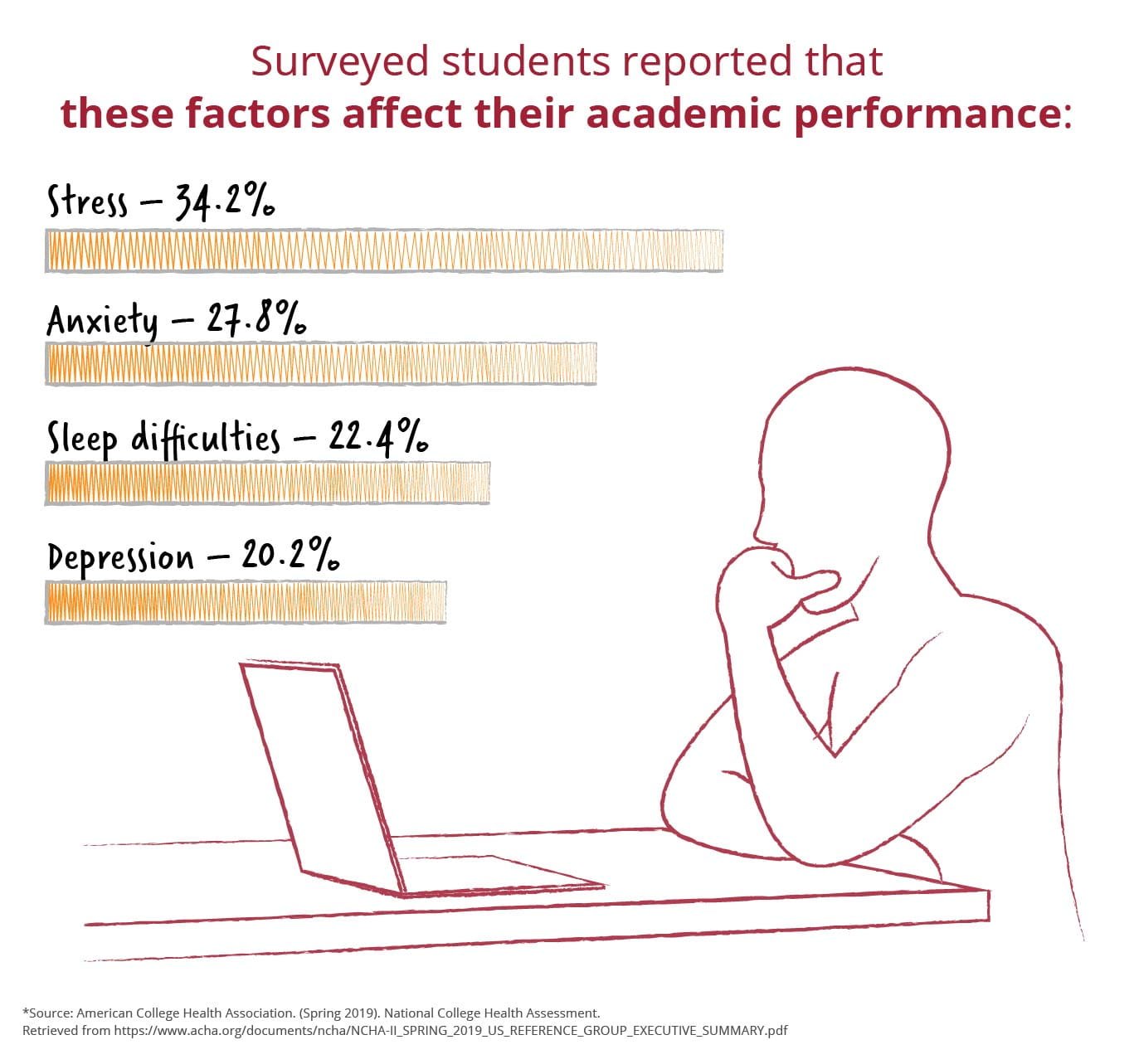 It's also interesting to note that for traditional students, the steepest increase in stress and anxiety typically occurs during the initial transition to college. A recent study reveals that anxiety, depression and stress levels among college students rise steadily during their first semesters of college and remain elevated thereafter.
Whether you're a traditional undergraduate or an adult learner, beginning a new educational endeavor requires for readjustment within one's typical lifestyle. This new change can be difficult to navigate for many.
While many seem to think of stress as something that only impacts our mental well-being, there are a number of physical effects that can't be ignored. The human body is designed to withstand occasional periods of extreme strain, but chronic stress can have the following impact over time: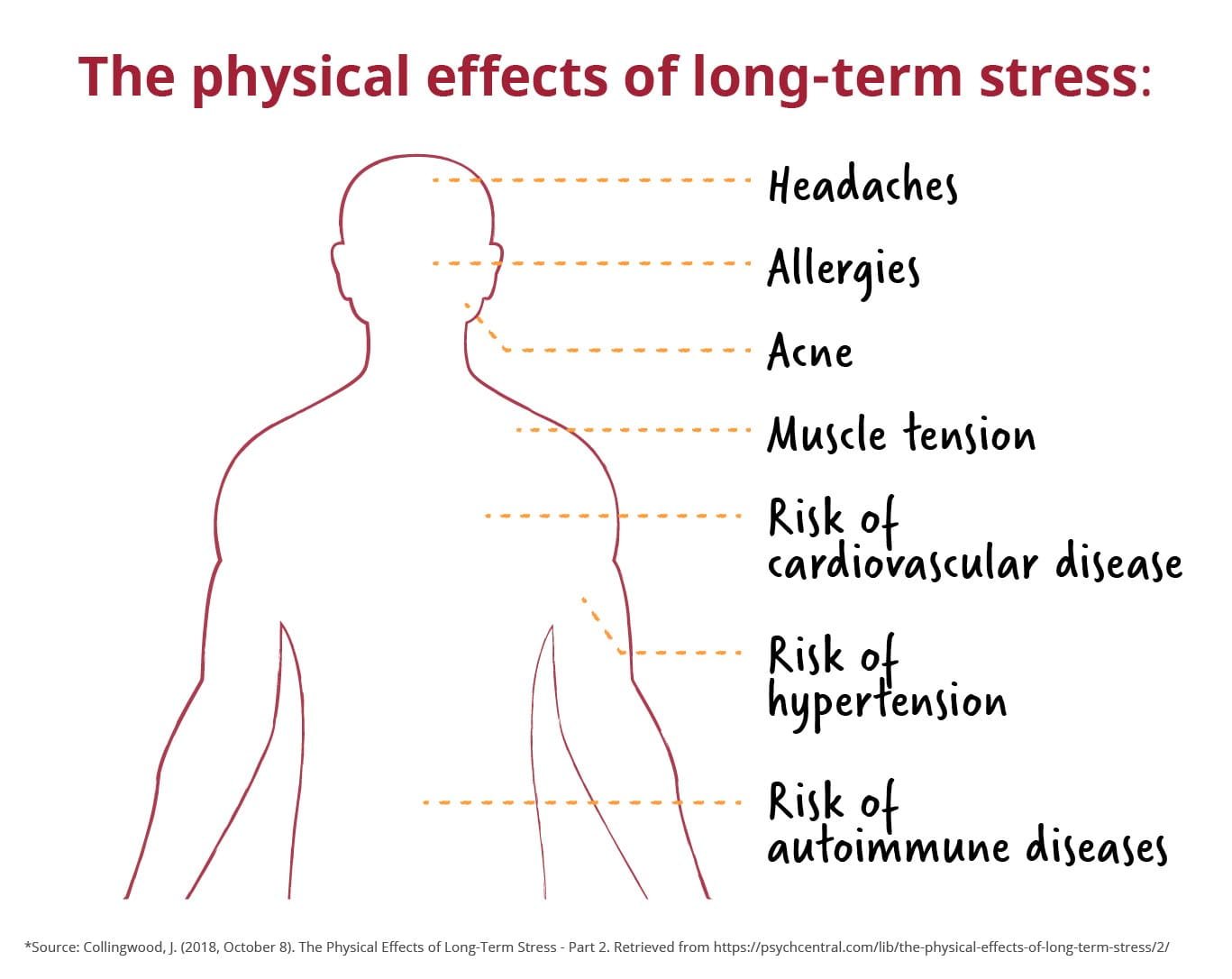 In addition to affecting students' mental and physical health, there's one more key area that college stress influences over time: behavioral health. This refers to how people respond in various scenarios – when a distinct, regular behavior that goes beyond the scope of a typical mental illness begins to negatively affect someone, it impacts their behavior health.
Being able to recognize common stress symptoms is key to the process of managing them, so it's important to know what to look for. Once you do, it's a good idea to engage in an ongoing assessment process to be sure you spot any red flags or areas of concern.
The Mayo Clinic offers the following breakdown: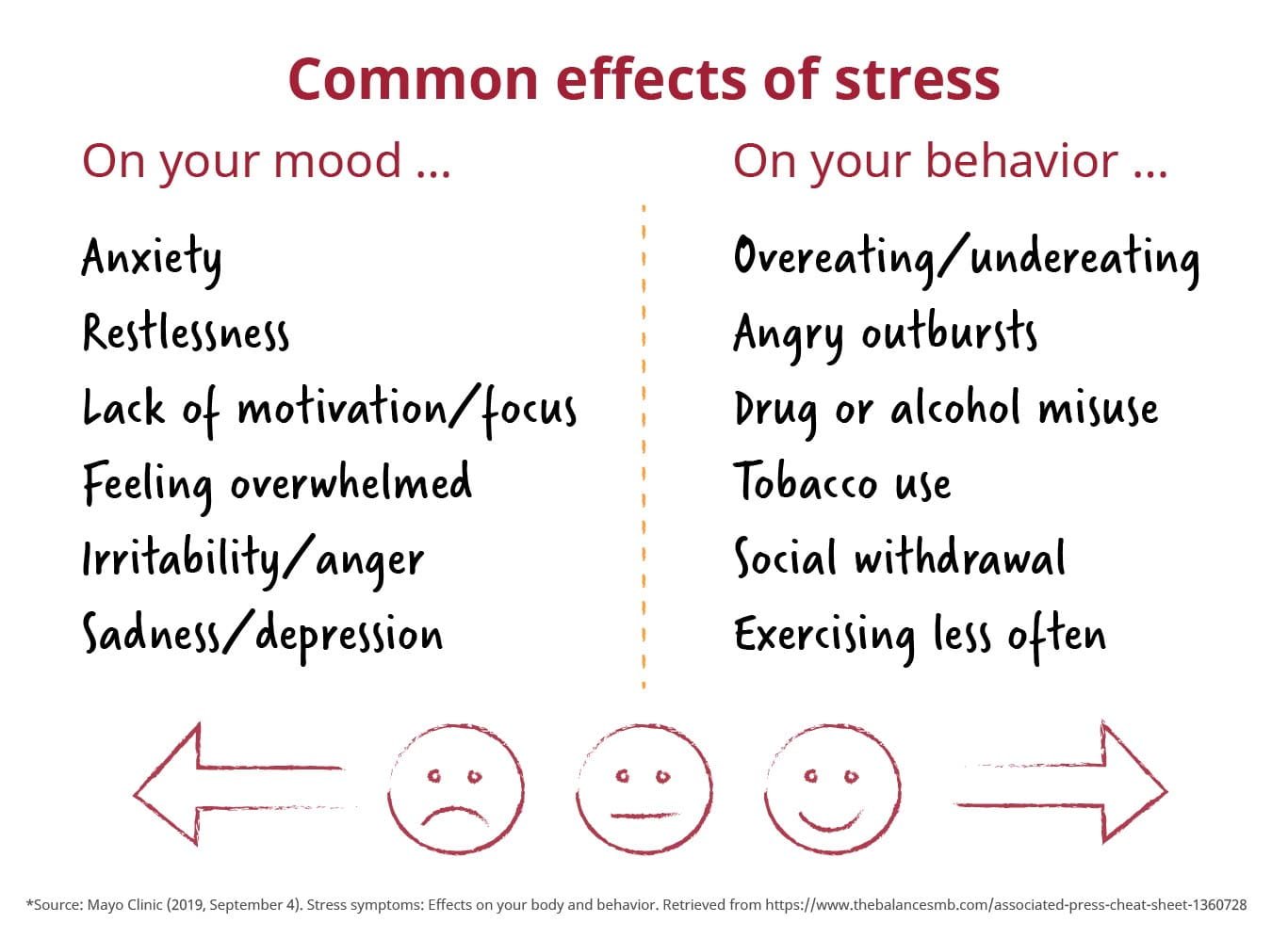 How to prioritize self-care in college
According to data collected by Facebook, the country as a whole has begun to embrace a widespread self-care movement with things like milk baths, "chill-out music" and sea salts becoming popular conversation topics across the social media platform. But what does self-care look like when it's specific to college students?
Typical self-care behaviors like healthy eating, consistent exercise and adequate sleep can help you regulate your mood as you cope with stress. Beyond those basic practices, there are a few key things you can do to keep your stress in check while you pursue your degree.
1. Prioritize time management
Sometimes the most effective form of self-care is a preventive measure. Getting a handle on your time management skills early on in your higher education experience will help set you up for long-term success. The reason is pretty simple: if you know what's coming, you can prepare accordingly.
As University of Massachusetts Global associate professor of psychology Dr. Marnie Elam says:
Stress, at its basis, is when people feel like the demands of their life are larger than their resources to meet those demands.
Implementing some tried and true time management hacks like protecting your study time, leveraging your internal clock and making smarter to-do lists can help you stay on top of your school work (and other responsibilities) before things get too stressful.
2. Surround yourself with supportive people
Inevitably, some students are more prone to stress than others. Mental health experts indicate that students with strong life skills — problem solving, decision making, handling complex emotions and managing relationships — are typically better able to cope with the demands of college courses.
Maintaining strong connections can become particularly important when juggling numerous tight deadlines. Keeping in touch with the people in your support system can turn into a continual source of motivation as you work through rigorous college courses.
University of Massachusetts Global assistant professor of psychology Dr. Jenny Good explains it this way:
Surround yourself with people who, when things get hard, are able to remind you of the reason you chose to dive into this field of study.
When you find yourself struggling, loved ones can help point you back toward your why in a way that helps you persevere. Remember, connectedness is key to overall wellness — loneliness and isolation are significant risk factors for mental health problems.
In addition to reaching out regularly to those in your circle, it can also be a good idea to connect with some of your peers at school. Talking with others who are going through the same experience as you can help you feel more supported and less alone. Social media can be a great tool to do this – for example, your school may have student Facebook groups you could join.
3. Conduct regular mental health check-ins
The ACHA's National College Health Assessment reports that 66 percent of college students experienced overwhelming anxiety in the past year. Additionally, 45 percent of learners found themselves, at times, too depressed to function. Yet just a fraction of students experiencing these issues make use of the available services at their schools' counseling centers.
Still, 95 percent of surveyed college counseling directors maintain that the number of students with significant mental health problems is a growing concern at their institutions. While there are numerous things you can do on your own to keep your mental well-being in check, countless people need outside help from time to time.
Finding someone who can guide you as you process everything happening in your life can be an excellent way to manage any stressors before they become too much to handle. Most colleges and universities make counseling and other mental health services available to students. If you don't feel comfortable using your school's resources, you could try virtual counseling or look into finding a mentor who can help guide you as needed.
Self-care for college students: Make yourself a priority
As you work hard to advance your career by advancing your education, the last thing you want is to get bogged down by unnecessary stress. It's clear that self-care in college is one of the primary ways to balance stress and ensure overall wellness as a busy student. Making your well-being a priority in this way can help pave the way for continued success in your educational journey and beyond.
Another surefire way to curb college stress is to keep your work-life balance in check as you pursue your studies. But with so much on your plate at once, that can be easier said than done. Learn more about the importance of leading a balanced life and check in on the status of your current workload by taking our quiz, "How strong is your work-life balance?"
Become a Student
Have questions about enrollment, degree programs, financial aid, or next steps?