News
Survey Gauges Parents' Interest in Advancing Their Own Educations as Children Settle into School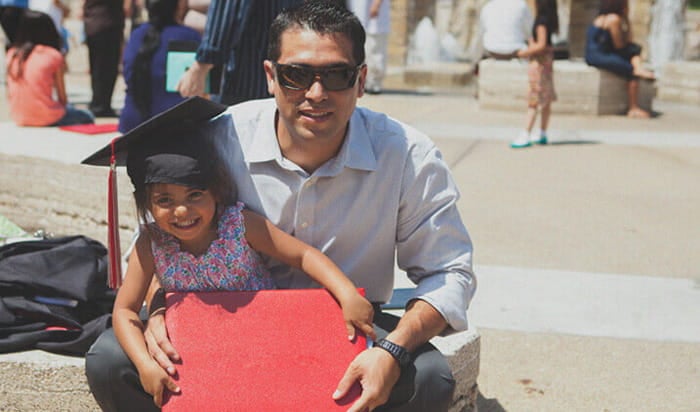 IRVINE, Calif. (Oct. 21, 2021) – More than half of U.S. parents who responded to a late summer poll said the pandemic has inspired them to further their educations and three-quarters of those surveyed would prefer online options if they were to enroll in a college or university program.
With the pandemic reshaping the habits and priorities of American families, and as children are settling back into school routines, the leadership at UMass Global thought it would be a good time to connect with parents to learn if the pursuit of higher education even ranks as a personal priority.
"We are especially interested in learning how the pandemic is reshaping the daily habits, wants, and needs of parents living in states that we have yet to serve," said UMass Global Chancellor Gary Brahm. "Instead of making assumptions, we thought we'd take a minute to connect with parents directly."
With the September launch of UMass Global, a private nonprofit affiliate of the University of Massachusetts, the university is intensifying its efforts to expand access to higher education to adult learners living along the west and east coasts and all states in between.
Market Research company OnePoll performed the survey on behalf of UMass Global. OnePoll conducted a random double-opt-in survey of 2,000 U.S. parents between August 24 and September 4.

The parent poll revealed that many parents share a substantial interest in learning new things or returning to college. Additionally, a full 78% expressed agreement with the proposition they would be better students now than when they previously attended college.
The parent poll also showcased a strong preference (77%) for online higher education options, with 47% stating their preference for entirely online options. The second most popular choice, favored by 30% of respondents, was a hybrid mix of in-person and online learning.
The basis for the strong interest in online learning became apparent when the poll revealed that 75% of surveyed parents think that balancing studies and parenting would likely be difficult. Along the same lines, 62% expressed worry that going to school would reduce time spent with loved ones.
"Looking at the poll results, we can see why a parent who has education aspirations of their own may hit the pause button believing it is for the good of the family order. The fear that setting aside time to study detracts from family life is quite pervasive," said Saskia Knight, UMass Global Executive Vice Chancellor for Enrollment and Student Affairs. "Finding ways to mitigate this fear is important because we know when at least one parent in a household completes college, their children are more likely to complete their educations too. There is a multi-generational ripple effect that occurs from college completion."
According to parents, a little support could go a long way. The survey also showed 65% of parents responding would be more likely to enroll if they had a coach to help them figure out the process. Additionally, 75% of participating parents said they would be more likely to plunge forward into a new enrollment if their employer provided free college as a workplace benefit.
Millions of U.S. adults, many of whom already have college credits to their name, may be well-positioned to complete a degree. The National Student Clearinghouse Research Center reported in 2019 that nearly 36 million U.S. adults stopped their schooling before they wrapped up college degrees. The Clearinghouse Research Center described some 10% of these Americans as "potential completers."
Americans who have completed college are likely to earn significantly higher wages, and live with lower risks of unemployment, than those with lower levels of educational attainment. People holding jobs that typically require some college, but not a degree, earned median annual wages of nearly $38,000 in 2020, according to the U.S. Bureau of Labor Statistics. A bachelor's degree qualified working Americans for jobs paying median annual wages more than double that amount - about $78,000.
What's more, the unemployment rates for Americans possessing a bachelor's or higher-ranking degree are lower during economic downturns than the rates for people with some college or an associate degree, a high school diploma, or an incomplete high school education.
Financial matters, however, are not the only motivations for parents considering higher education.
"I need my kids to know education is important and how can I teach that if I don't do it myself?" one parent said while responding to OnePoll's survey.
Become a Student
Have questions about enrollment, degree programs, financial aid, or next steps?