News
UMass Global experts explain how competency-based education fosters personalized learning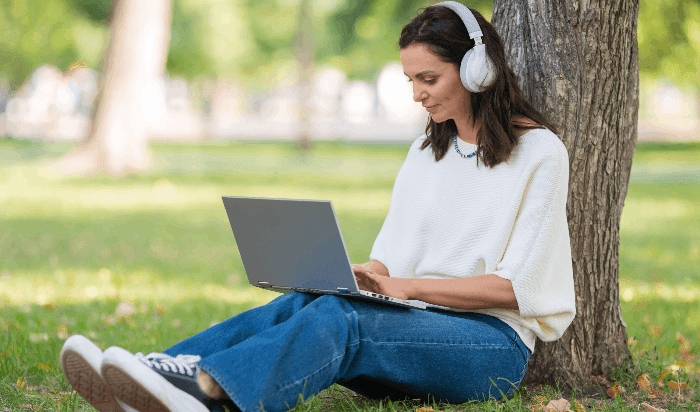 IRVINE, Calif. (Oct. 25, 2022) – For nearly a decade, University of Massachusetts Global has endorsed online competency-based education (CBE) as an alternative for students who prefer to learn at their own pace. CBE can be ideal for students who come to the university with a wealth of knowledge in a given discipline, or for others who desire maximum flexibility along their route to college completion.
UMass Global was an early adopter of CBE, with the competency-based Bachelor of Business Administration program debuting in 2014. Today, CBE programs here are concentrated among the disciplines of business management, information technology, and organizational leadership. Although most students still opt for more traditionally structured programs built on the credit hour, CBE programs are an important – and growing – set of options for working students.
"I think it has the potential to reduce the cost for students because the subscription model is an all-you-can-learn model," Chancellor David Andrews said. "Essentially, pay one price and if you're a fast learner and can consume the content and develop the content you can move at your own pace. We've had a lot of success across higher education in 'any time' and 'anywhere' online offerings. The final frontier is 'any pace,' and being able to do it at your own time and your own pace is a real advantage."
CBE programs, known here as UMass Global MyPath, provide students with digital learning tools covering an entire program's worth of material on a subscription basis. Students make progress by spending however much time they need to attain mastery of discrete skills, or competencies. This approach contrasts with the credit-hour model, wherein students take a sequence of courses that are each designed to confer the same skills to an entire class of students over a fixed amount of time
Sharing knowledge
UMass Global faculty with experience aiding CBE students are finding audiences interested in their knowledge. Associate dean and alumna Monica Shukla-Belmontes of the School of Business and Professional Studies and two tutorial faculty members, Diana Gilmer Echols, Felix A. Kalinski, Jr., as well as associate professor Margaret Moodian presented in mid-October during an American Association of Colleges and Universities (AACU) virtual conference.
The faculty members explained how CBE can be a boon for students from traditionally underserved communities. In an interview, Shukla-Belmontes said this is because students can tailor their CBE process to their individual circumstances. This was evident during the pandemic, she said. Students considered to be essential workers could receive leaves of absence from their academic programs that enabled them to pause their studies while spending more time at work. That would not have been possible for students on a credit-hour schedule. On the other hand, students who went on furlough were able to devote hours spent away from their jobs to their studies.
"Instead of taking two months to complete one competency, they were doing it in a matter of weeks," Shukla-Belmontes said.
She emphasized, however, that CBE should be regarded as an educational method that prioritizes personalization, not speed.
The recent AACU conference was but one forum for faculty to share their insights on CBE. Besides that event, Moodian and Paula Edwards, a tutorial faculty member with the business school, contributed chapters to a book focused on recent developments in online learning, "Handbook of Research on Future of Work and Education: Implications for Curriculum Delivery and Work Design" (IGI Global, 2021).
In Edwards' chapter, she explains how CBE is well-suited to working students who already have knowledge and experiences relevant to their degree programs. This is an advantage since a CBE program would allow them to save time and money by demonstrating competencies they already possess.
Additionally, Edwards points out that when CBE students subscribe to learning materials instead of adhering to a set course schedule, they have the autonomy to set aside time for work and family. The outcome is a more individualized relationship between students and their university.
"The focus shifts from the student working around the college or university schedule to the university or college working around the student schedule," Edwards writes. "This is a paradigm shift."
UMass Global advises prospective students that CBE can be a good fit for people who are confident in their time management abilities and are also comfortable using technology since CBE students here rely on digital learning tools they can access on their computer, laptop, or smartphone. That doesn't mean they learn in isolation - students can virtually converse with each other via online message boards and can request guidance from tutorial faculty members.
A forward-looking perspective
CBE continues to grow at UMass Global. Approvals are pending for the School of Extended Education to offer a competency-based certificate program in health and medical administrative services.
And the evolution of CBE here may lead to a future where competency-based methods are blended into credit-hour programs. For example, if a math course is designed to teach eight competencies, a student who grasps only four of those concepts would fail a credit-hour course despite gaining some knowledge. It may be possible, Chancellor Andrews said, to modernize teaching so students in that kind of situation could concentrate on as-yet unlearned skills instead of retaking the entire course.
"How do we have these conversations and develop programs that allow us that kind of flexibility?" Andrews asked. "Do you break courses into smaller units? There are some conversations about course length and frequency of starts. All of these things need to be on our agenda. They're not always firmly aligned with what we think of as competency-based education, but they're aligned with competency-based approaches."
Become a Student
Have questions about enrollment, degree programs, financial aid, or next steps?