You're Invited! UMass Global Online Information Sessions
We've provided excellence in adult education for more than 60 years.
Do you want to go back to school, but don't know where to start?
Attend a 30-minute online info session to find out how UMass Global can help.
To register, choose your date, time and area of interest below.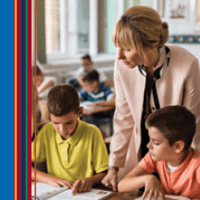 Become Intern Eligible in Less Than a Year with a California Teaching Credential from UMass Global
Become equipped to teach single subject, multiple subjects, or special education in a K-12 classroom in California with the UMass Global online teaching credential program – and become intern eligible in under a year! You can also add-on your Master's in Teaching in just 5 additional courses.

Thu, oct 19, 2023 | 11 - 11:30 aM PT Thu, nov 9, 2023 | 4 - 4:30 PM PT THU, Dec 7, 2023 | 4 - 4:30 PM PT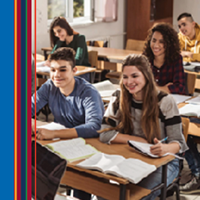 Earn your Master's in Education in Only 6 Online Courses with UMass Global
Develop the skills and understanding necessary to become a mentor, curriculum leader or college instructor in teacher preparation programs in California with a UMass Global online Master's in Education. Get credit for your California induction program and complete your MAE in just 6 courses.

Thu, Oct 19, 2023 | 4 - 4:30 PM PT WED, Nov 15, 2023 | 4 - 4:30 PM PT
Earn Your California Preliminary Administrative Services Credential with UMass Global
UMass Global's online Master of Arts in Educational Leadership and Administration (MAELA) with the Preliminary Administrative Services Credential (PASC) was designed to help aspiring leaders become change agents who can transform schools, districts, and communities. Don't miss the opportunity to begin your journey and become the next great school leader that students, teachers, and families need.
Mon, Oct 16, 2023 | 4 - 4:30 PM PT Mon, Nov 20, 2023 | 4 - 4:30 PM PT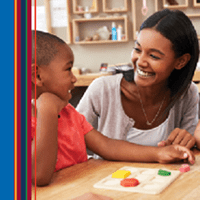 Meet Your California TK Qualifications Online with UMass Global
Discover how to complete the California TK qualifications online with UMass Global. Develop the skills, knowledge, and disposition you need to facilitate positive growth and development among young children.
Tue, Oct 17, 2023 | 4 - 4:30 PM PT MON, Nov 13, 2023 | 4 - 4:30 PM PT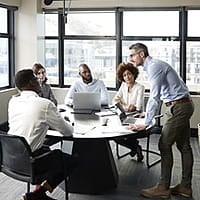 Getting Ahead in Business
Discover the business and leadership skills needed to inspire innovation, solve complex challenges and advance your career. UMass Global's programs are designed to strengthen and develop your leadership skills to better equip you for your future role in the business world. Come learn and discover which degree or certificate program fits your personal and professional goals.
TUE, Oct 17, 2023 | 11 - 11:30 AM PT TUE, Nov 14, 2023 | 11 - 11:30 AM PT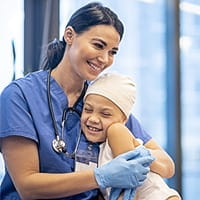 Degrees in Nursing
Focused on creating innovative leaders for an ever-changing health care system, UMass Global's School of Nursing & Health Professions utilizes a blend of advanced technologies and immersive learning geared specifically for adults seeking to improve their careers. Participants are encouraged to have completed their RN license and/or be scheduled for NCLEX prior to attending.
THU, Sep 28, 2023 | 11 - 11:30 AM PT THU, Oct 12, 2023 | 4 - 4:30 PM PT
WED, OCT 18, 2023 | 4 - 4:30 PM PT Wed, Nov 8, 2023 | 4 - 4:30 PM PT
Thu, Nov 9, 2023 | 11 - 11:30 AM PT Wed, Dec 6, 2023 | 4 - 4:30 PM PT
Thu, Dec 7, 2023 | 11 - 11:30 AM PT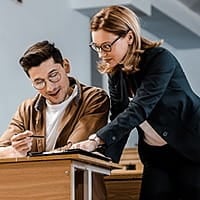 Explore Earning Your Doctorate in Organizational Leadership at UMass Global
We believe this will be a life-changing experience for you—one that will offer immeasurable personal and professional growth, new and lasting relationships, and one that will provide the joy, as well as the rigor, of transformational learning. New cohorts begin every Fall.
WED, Sep 27, 2023 | 11 - 11:30 AM PT Mon, Oct 16, 2023 | 12 - 12:30 PM PT
MON, Nov 20, 2023 | 12 - 12:30 PM PT MON, Dec 11, 2023 | 12 - 12:30 PM PT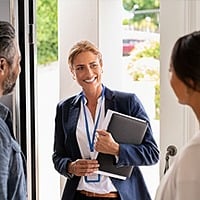 Degrees in Behavioral Health
UMass Global School of Arts and Sciences offers Bachelor's and Master's degree programs in Social Work and Psych, including MFT and PCC taught in a flexible, 8-week, year-round schedule designed especially for busy working adults just like you. We help you develop marketable skills with degree programs that align with your professional goals.
THU, Sep 28, 2023 | 4 - 4:30 PM PT THU, Oct 12, 2023 | 11 - 11:30 AM PT
WED, Nov 8, 2023 | 11 - 11:30 AM PT WED, Dec 6, 2023 | 11 - 11:30 AM PT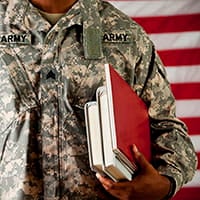 Getting Credit for Your Military Education
Ensure that your prior military education counts. We will discuss getting your transcripts evaluated to determine exactly what your credits are worth. Learn about educational options, including degree programs, certificates, certifications, and corporate training.

WED, Sep 27, 2023 | 5 - 5:30 PM PT Thu, Oct 19, 2023 | 5 - 5:30 PM PT
THU, Nov 16, 2023 | 5 - 5:30 PM PT Tue, Dec 12, 2023 | 5 - 5:30 PM PT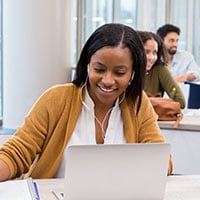 Transferring from a California CC to UMass Global
Learn how to transfer maximum credits towards the degree of your choice.
Tue, Sep 26, 2023 | 4 - 4:30 PM PT
The Brandman* webinars are a great way to indulge in a topic for a small portion of your time, that ignite your thoughts and practice. Having these webinars offered for free and on topics that are current and needed, even for experienced teachers, is a testament that Brandman* is aware of the trends and topics revolving around the education profession. I appreciate having the opportunity to attend and then have access to slides and the presentation to share with my colleagues who could benefit.
Kari P.
First grade Teacher, Synchronous Teaching 101 Webinar
*Brandman University is now UMass Global
The Leading with Emotional Intelligence webinar was an excellent refresher on understanding EI. The facilitators made it so clear and easy to understand it was almost as if I was in a classroom and they were right next to me advising me one-on-one. The workshop was clear and concise and offered much more information than I expected!
Robert S.
Xceed Group, Leading with Emotional Intelligence Webinar
These seminars are testaments to the dedication of the never-ending learning experience and commitment by Brandman University*. Although I graduated two years ago, they are still teaching and enhancing my education.
Ellis C.
US Army, Operations Manager
*Brandman University is now UMass Global
Excellent information for all level of teaching, preschool, K-12. Valuable content for both new and established teachers.
Elnora L.
Santa Cruz City Schools, Autism Webinar
The webinar was extremely informative and it really made me reanalyze myself as leader to see where I stand and where I need to improve on.
Mario C.
Leader Mindset Webinar
Joining this webinar was very insightful and useful. Before this seminar, I was very hesitant about introducing project-based learning into my classroom. It will take some more planning, but I can see myself using this in the future.
Attendee
PBL Webinar
This was a great webinar and I am grateful to have access to this kind of resource. Presentation was well delivered, great content and engaging speaker.
Tara F.
Regional HR Business Partner, Leading with Emotional Intelligence Webinar
The webinar was excellent. The information presented has a lot of value and being able to relate it to real scenarios definitely made it easier to understand and relate to. Would recommend this webinar to anyone who is in the work environment and dealing with lots of different types of personalities.
Attendee
Communications Webinar