Become a Leader in Business
Become a leader who inspires innovation and change with UMass Global's hybrid, self-paced and online business programs.
Why Earn Your Business Degree at UMass Global?
As a leader in online education for more than 20 years, UMass Global provides a quality business education with the flexibility you need to fit school into your busy schedule. With multiple learning formats and streamlined entry options, like no required entrance exam for MBA applicants, we've made earning your business degree faster and more affordable.
Earn a Specialized MBA
Earning an MBA can help you expand your network and increase earning potential. In fact, employers report candidates with a specialized MBA are more likely to earn higher starting salaries than generalized MBA grads.
Before, I was stuck in the process. Now I have the larger picture. I am more well-rounded. I would like to move to a management/leadership position and working on my MBA has made me better candidate.
Sandra W. | MBA Program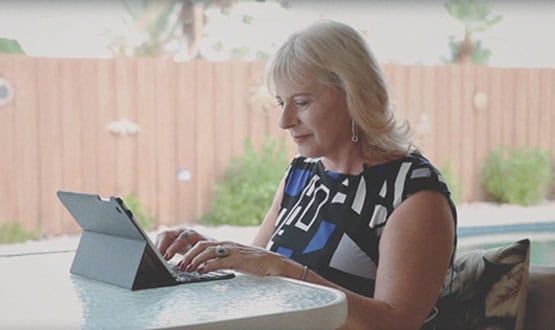 If I put more time in it I can get it done faster. The best part is that you find out what you do know and what you need to know.
Venita C. | MyPath BBA, Information Systems Management
Going back to school helped me get out of my comfort zone. It helped me get past the 'we've always done it that way' mentality. I learned that I needed to innovate personally, professionally and to help other become more innovative.
Keith F. | MBA Program
My desire to go back to school was personal. Both my mom and dad graduated from high school, and I'm the first in my family to go on for my college education. I want to be a positive role model for my children. I can do all three – work, family and school; I didn't have to choose.
Brandy C. | MBA Program
Customize Your BBA to Your Career
UMass Global offers over 10 business administration concentrations to choose from so you can align your BBA degree to your business goals.
*Available in online self-paced format
Which Learning Format Is Right for Me?
UMass Global offers three learning options: Online self-paced, online instructor led and hybrid.
Our competency-based BBA programs are ideal for students looking for added flexibility.
ONLINE


Self-paced

ONLINE

Instructor Led

HYBRID

Online + In Person

100% online
100% online
Each course meets 1x/week for three hours with the remaining coursework completed online
Students control program pace
Faculty/syllabus controls program pace
Faculty/syllabus controls program pace
Students control price: flat tuition rate consisting of two billing periods
Tuition is charged per unit, per class
Tuition is charged per unit per class
All textbooks and fees included*
Textbooks and fees are additional costs
Textbooks and fees are additional costs
Students may start any week -no deadlines, no semester structure**
Courses are 8 weeks in length with 6 sessions a year
Courses are 8 weeks in length with 6 sessions a year
Students demonstrate mastery of competencies from work experience
Traditional grading system
Traditional grading system
No penalty for leave of absence, students pick up right where they left off
Penalties for leaves of absence
Penalties for leaves of absence
Offered for select Business and IT programs
Available for most degree programs
Available for most degree programs to students near one of our 26 campuses in CA or WA
* additional fee if student fails 1st attempt at final assessment or requires additional vouchers for certifications
**expected 12 units per 24 month period
***upon approval
Find Your Business Program
Frequently Asked Questions
If you're considering going back to school for a business degree, you have more options than ever to choose from. Browse through these frequently asked questions to explore the right path for your career and find a UMass Global program that helps you achieve your goals.