Become a Leader in Business
Become a leader who inspires innovation and change with UMass Global's online instructor-led or self-paced business programs.
Why Earn Your Business Degree at UMass Global?
As a leader in online education for more than 20 years, UMass Global provides a quality business education with the flexibility you need to fit school into your busy schedule. With multiple learning formats and streamlined entry options, like no required entrance exam for MBA applicants, we've made earning your business degree faster and more affordable.
Earn a Specialized MBA
Earning an MBA can help you expand your network and increase earning potential. In fact, employers report candidates with a specialized MBA are more likely to earn higher starting salaries than generalized MBA grads.
Before, I was stuck in the process. Now I have the larger picture. I am more well-rounded. I would like to move to a management/leadership position and working on my MBA has made me better candidate.
Sandra W.
MBA Program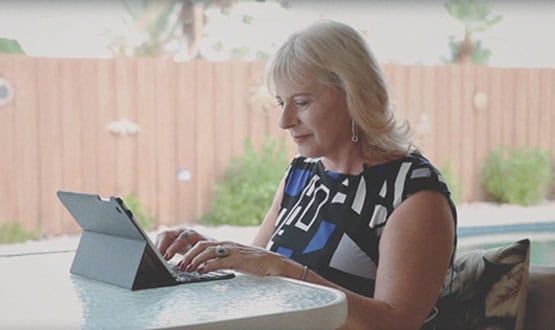 If I put more time in it I can get it done faster. The best part is that you find out what you do know and what you need to know.
Venita C.
MyPath BBA, Information Systems Management
Going back to school helped me get out of my comfort zone. It helped me get past the 'we've always done it that way' mentality. I learned that I needed to innovate personally, professionally and to help other become more innovative.
Keith F.
MBA Program
My desire to go back to school was personal. Both my mom and dad graduated from high school, and I'm the first in my family to go on for my college education. I want to be a positive role model for my children. I can do all three – work, family and school; I didn't have to choose.
Brandy C.
MBA Program
Customize Your BBA to Your Career
UMass Global offers over 10 business administration concentrations to choose from so you can align your BBA degree to your business goals.
*Available in online self-paced format
Self-Paced vs. Instructor led: Select the option that meets your needs!

| | | |
| --- | --- | --- |
| | Self-Paced | Instructor Led |
| 100% Online | | |
| Pace Controlled by | Student | Instructor |
| Textbooks and Course Materials Included | | |
| Start at | any time | 6 convenient times per year |
| Tuition charged per | flat rate per session | unit per class |
| Ability to take breaks | | |
| Programs Offered | 10 Business & IT Programs | 85+ programs, credentials, and certificates |
| Interact with Classmates | | |
| How Grading works | Mastery of Competencies (B or better) | Traditional Grading System |
*Additional fees apply if student fails 1st attempt at final assessment
**Expectations are to take 12 units per 24-month period
Find Your Business Program
Frequently Asked Questions
If you're considering going back to school for a business degree, you have more options than ever to choose from. Browse through these frequently asked questions to explore the right path for your career and find a UMass Global program that helps you achieve your goals.
A business administration degree provides the skills and knowledge needed to be successful in nearly any industry. Graduates can work in health care, technology, finance, government and even education. Most institutions offer undergraduate and graduate-level business degrees in a variety of specializations and some even extend to the doctoral level.

Explore UMass Global's full range of business programs

.

A high-quality business degree should be structured to teach you the skills needed to be competitive in the workforce. Core concepts include financial reporting, ethical decision making, organizational communication, leadership and principles of management. Students can also align their program with their career goals by specializing in a certain area.

Find a business program that fits your career goals

.

Common courses in most

bachelor's-level programs

include statistics, management, finance, accounting, organizational communications, operations management, leadership and professional ethics. You can often choose from a range of concentrations to specialize in.

An MBA

also has similar concepts but digs deeper into more advanced concepts within each field.

A business degree is extremely versatile and can apply to nearly any industry. But concentrations and different types of business degrees can help turn an interest into a career. Some example positions include network systems administrator, marketing manager, GIS technician, environmental compliance analyst and public relations specialist. Discover more paths with our resource

5 Types of online business degrees and corresponding careers

.

A degree in international business combines fundamentals like leadership and accounting with foreign market concepts and financial dynamics. Students learn basic U.S. accounting rules as well as financial practices of other countries, multinational consolidations, foreign currency translation and international taxation principles. Learn more about the

MBA in International Business

at UMass Global.

Considered the gold standard in business, an MBA can help increase professional opportunities and even earning potential. Adding a specialization can help align curriculum with a certain career path. Example positions for MBA grads include financial analyst, risk solutions architect, health services manager, marketing director, benefits specialists and more. Explore your options by checking out our resource "

10 MBA specializations and why you should consider pursuing one

."

Some top career paths for MBA finance grads include senior financial analyst, financial manager, investment banker and chief financial officer just to name a few. Learn more about typical job duties for these positions and find out what to expect from this type of degree program by checking out our resource

What to expect when earning an MBA in finance

.

An MBA in finance provides students with the same foundational knowledge as a general MBA, covering topics like statistics, economics, leadership and marketing. But the finance emphasis also allows students to broaden their expertise in areas like stock market analysis, global economy, corporate finance and investment banking.

In addition to the core MBA courses in finance and economics, students interested in data analytics can expect to dig deeper into data visualization, modeling and business applications using industry leading Esri GIS software. Graduates of the UMass Global

MBA in Business Intelligence and Data Analytics

will be able to synthesize multiple data sources to evaluate business trends. Learn more by checking out our resource

What to expect from an MBA in Data Analytics

.