Training & Development
Evaluating employee education benefits: Tuition assistance, tuition reimbursement & more

Workforce trends are constantly evolving. This matters to human resources professionals and hiring managers, because these fluctuations can affect recruiting and retention. When national unemployment rates are high, for example, it's not as challenging to fill open positions — the pool of qualified candidates is typically vast. But attracting and retaining top talent can become a more daunting task when unemployment numbers reach historic lows.
It's also important to consider the fact that 80 percent of today's employees prefer attractive benefits over regular pay raises. There are a number of innovative employee benefits organizations can offer outside of the typical suite of health insurance, paid time off and 401k contributions. But one category that seems to be particularly appealing to employees is professional development benefits. As a result, employee education benefits have become a much bigger topic of conversation.

We dug into the data to learn more about the payoff such offerings can bring to employers and employees alike. Read on to learn more about the various forms of educational support organizations like yours could offer.
The benefits of employer education assistance
Employee education benefits can help you develop your personnel while also reaping the rewards of workers with increased qualifications. A recent survey of more than 2,000 employees reveals organizations that offer professional development opportunities like education assistance have employees who are 15 percent more engaged in their work. Such businesses also see 34 percent higher retention rates than those that don't offer similar opportunities.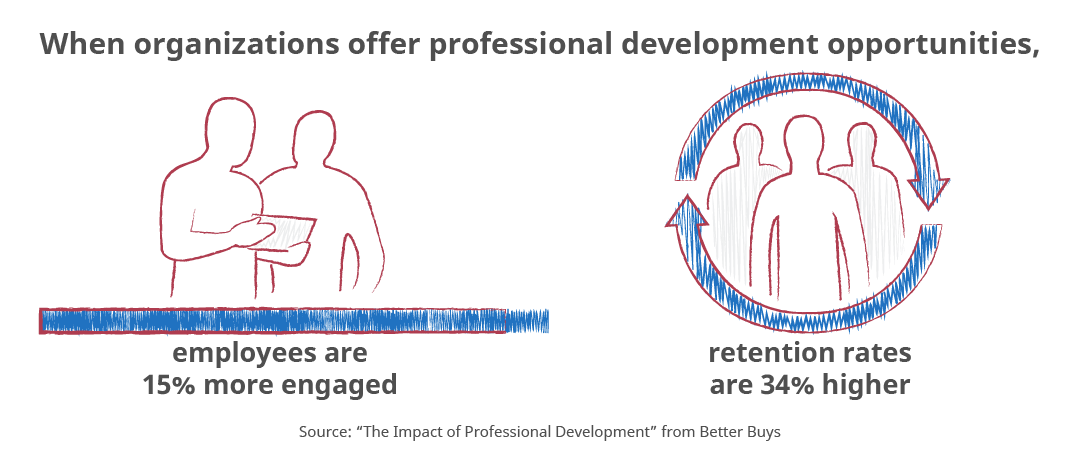 Education benefits can also be affordable for employers. When administered properly, benefits that cover educational costs can be tax-free for the employee and remain a business deduction for the organization.
According to the IRS Tax Guide, employers can provide up to $5,250 per employee for tuition tax-free. And if the education expenses qualify, employees may even be able to exclude the payment from their gross income as a working condition fringe benefit.
Exploring 3 employee education benefit options
As you consider making employer education assistance available to your employees, it's worth reviewing the various formats in which this can be accomplished, along with the demonstrated benefits of each. There are three main options to evaluate: tuition assistance, tuition reimbursement and employer student loan repayment. Let's take a closer look at each.
1. What is tuition assistance?
Some companies utilize tuition assistance programs. These are programs employees can apply for in hopes of gaining financial assistance from their employer while earning a professional or graduate certificate, pursuing a degree or even attending valuable Extended Education courses.
With tuition assistance programs, companies will often partner with colleges and universities that offer courses and programs that are applicable to their industries. Employees can qualify for assistance if they meet a number of requirements outlined by their employer. These requirements often include enrolling in a program that is relevant to the work they do — or hope to eventually do — for the organization.
Companies with tuition assistance programs will provide educational funds for qualifying participants upfront. Employees can then use that financial assistance to pay for their higher education pursuits. The return on investment (ROI) for such programs can be impressive.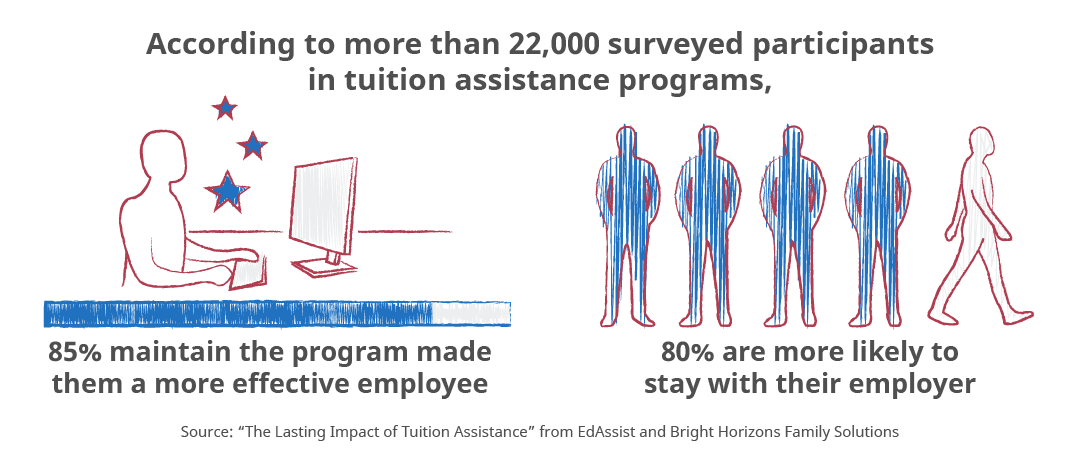 When the restaurant chain Chipotle began its tuition assistance program, for example, it very quickly saw the retention rate for participating employees skyrocket. In fact, retention reached 89 percent after just five months — nearly double the retention of employees who didn't participate.
An EdAssist study that surveyed more than 22,000 participants in tuition assistance programs reports similarly promising findings:
84 percent of respondents said access to a tuition assistance program was important in their decision to join their company.

8 out of 10 respondents said that tuition assistance makes them more likely to stay with their employer, regardless of any policy requiring them to stay.

85 percent of participants maintain the program has made them a more effective employee.
2. What is tuition reimbursement?
Tuition reimbursement programs are similar to tuition assistance programs in that they allow companies to provide financial support to qualifying employees who choose to go back to school. The primary difference, however, is that tuition reimbursement requires that professionals pay the cost of their tuition initially. Once they complete their courses with an adequate GPA, the organization will reimburse them for a portion of the tuition cost.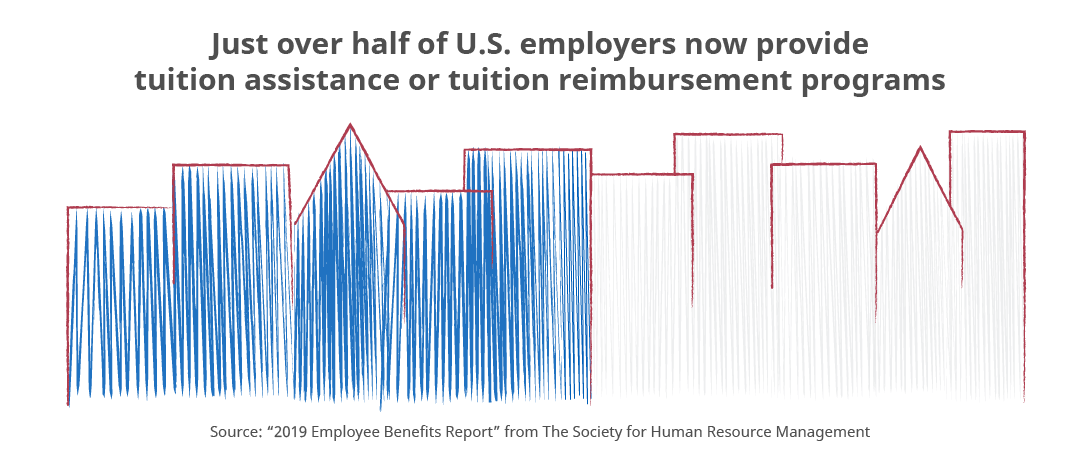 While this education benefit puts more of a financial burden on the employee from the onset, tuition reimbursement programs can see similarly strong results for employers and participants alike. One of the most prominent case studies involves the major health insurer Cigna.
From 2012 to 2014, the company put millions of dollars toward its educational reimbursement program.
An analysis of the program's impact reveals that for every dollar Cigna spent on reimbursement, the organization got back $2.29, as a result of reduced turnover and lower recruiting costs.
Employees also reaped rewards. Program participants at Cigna were eight percent more likely to stay with the company. They were also 10 percent more likely to be promoted, seeing a 43 percent increase in wages over a three-year period.
Organizations are responding to positive findings like these by offering their own tuition assistance or tuition reimbursement programs. Just over half of U.S. employers now provide such programs for undergraduate or graduate degrees, according to SHRM's 2019 Employee Benefits report.
3. What is employer student loan repayment?
While tuition assistance and tuition reimbursement help employees add to their educational qualifications, employer student loan repayment programs are designed to minimize the debt professionals already have.
With student loan debt at an all-time high, it's unsurprising that a recent survey found nearly nine out of 10 recent graduates with student loans are seeking jobs with employers who offer assistance repaying loans. Six in 10 working adults with remaining student loan debt would even consider switching companies to receive assistance repaying their loans.
The burden is wearing on older working professionals as well. The same survey reports that 42 percent of adults with student loans aren't saving for retirement due to that debt.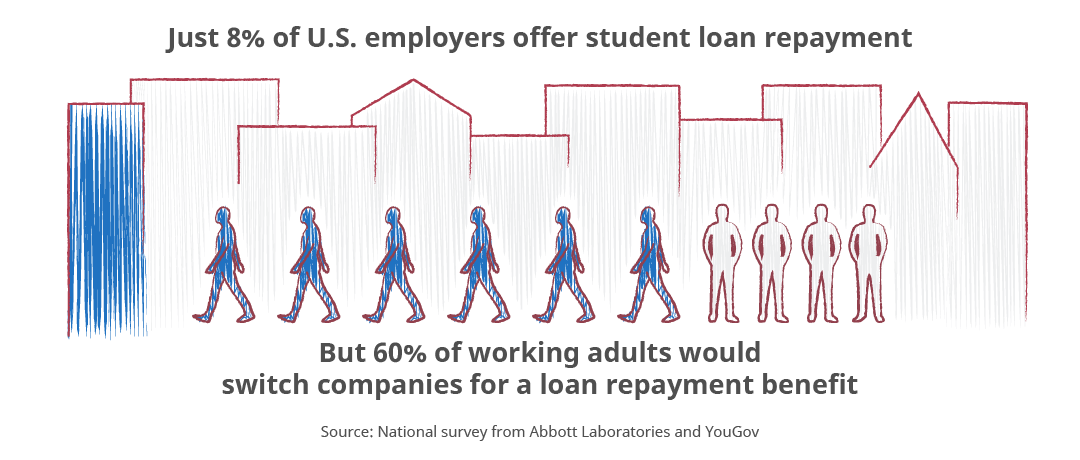 There are a couple ways companies can go about offering student loan repayment. Some programs follow a defined contribution (DC) model. With this model, the employer will match contributions to an employee's DC plan account. This empowers employees to add to both their student loan repayments and their retirement savings. Other employers offer to match the amount employees pay toward their loans to more rapidly chip away at the debt.
While these programs are considerably less common than tuition assistance and tuition reimbursement programs, the SHRM report shows there has been growth in the number of organizations that provide student loan repayment. The rate of participating U.S. companies has increased from 4 percent in 2018 to 8 percent in 2019.
Consider the education benefits you can offer your employees
Professional development options like employee education benefits are more important to today's workforce than ever before. Recruiting and retaining the most qualified and innovative talent for your organization today may mean it's time to consider the value of investing in your employees' education.
If you're hungry to learn more about how career development offerings can impact your company and employees, consider some insight straight from business leaders. Perhaps you'd like to take it one step further. It might be time to dig into the prospect of teaming up with a renowned university to provide educational opportunities to your workforce. Head over to University of Massachusetts Global's Partner Organizations information page to learn more about your options.