Social Justice
How to become a social worker in California: A guide for aspiring practitioners

If you're considering social work, you've likely already determined that you have what it takes. You're empathetic, organized and a good communicator. But how exactly can you turn those skills into a career in the Golden State?
Perhaps you've heard about the rigorous process for earning a California social work license. While it may seem like a lot at first — education, tests and applications — these requirements are designed to prepare you for the work ahead. The rigor is what ensures you're qualified to provide first-rate support to those who need it most.
But before jumping in, you need to understand how to become a social worker in California. Depending on where you are in your educational journey, the path toward a practitioner title could vary. Start familiarizing yourself with the process now.
5 Steps to becoming a social worker in California
While not every position requires you to become a licensed clinical social worker (LCSW), obtaining this credential may significantly increase your job opportunities. We'll cover all the necessary education, exams and practical experience you need to obtain your California social work license.
1. Earn a bachelor's degree
First things first, you will need to complete your undergraduate education. If you haven't yet earned a degree, your best option is to earn a bachelor's in social work. This education helps provide you with a solid foundation in the principles of communication, social structure and community impact.
Earning this degree can qualify you for unlicensed positions. A few examples of these positions include case managers, child welfare social workers and residential counselors. But if you want to provide psychotherapy and other clinical interventions, you'll need to advance your education further.
If you already have a bachelor's degree in another subject, you can still pursue a Master of Social Work (MSW). In fact, social work is a great option for career changers who can utilize a variety of skills and benefit from their diverse experiences.
2. Obtain your MSW
In a social work master's program, you will explore an array of topics and have the chance to focus on those that interest you most. To meet social work licensure requirements in California, you'll need to cover several foundational concepts during your graduate studies. They include:
Human sexuality
Spouse/partner abuse
Child abuse assessment/reporting
Aging and long-term care
Chemical dependency and alcoholism
California law and ethics
In some cases, if you apply with a regionally accredited bachelor's degree in social work, you can even accelerate your time to graduation by entering an advanced standing program. At UMass Global, for example, you may waive up to 30 foundational credits and complete the program in as little as a year.
In addition to classwork, you'll also complete a practicum based on your area of interest. This is an opportunity to apply what you've learned and act as a practicing social worker under the supervision of a seasoned professional. Advanced standing students can expect to complete at least 600 hours in the field, while students in a traditional track will need closer to 1,000 hours.
3. Gain professional experience as an associate social worker (ASW)
If you want to become an LCSW, you must first apply to become an ASW through the Board of Behavioral Services. This is a temporary title that will allow you to work as a clinical social worker under the supervision of a licensed professional.
A California social work license requires at least 3,000 hours of supervised experience over the course of two years in several areas, including:
Clinical psychosocial diagnosis
Assessment
Treatment
Individual or group psychotherapy
Client-centered advocacy
Consultation
Those two years will help you become fully prepared to fill a much-needed role. California is eager to gain more qualified social workers. One study revealed a substantial shortage of behavioral health workers — including LCSWs — partially due to a large group of soon-to-retire social workers.
As a result, the former governor signed a bill that expedites the initial licensure process. In the past, it took several weeks to get the necessary ASW registration number you need to start working. Now, you can typically earn post-graduate experience through a paying employer before receiving that number.
4. Take your exams and apply for licensure
After completing the necessary supervised hours as an ASW, you'll then be required to pass two exams. The first is the California Law and Ethics exam. If you are applying from out of state, you will first need to take a 12-hour course on this material.
You'll also need to pass the Association of Social Work Boards (ASWB) licensing exam. It contains 170 multiple choice questions, 150 of which count toward your score, in the following four categories:
Human development, diversity and behavior in the environment
Assessment and intervention planning
Intervention processes and techniques for use across systems
Professional relationships, values and ethics
To help you get a sense of what you'll need to know, take a look at a sample question provided by the examination board. After passing both exams, your background check and paying your fees, you can apply for your California social work license. Once you attain the LCSW designation, you are ready to launch your career as a social worker.
5. Decide where you want to work
As an LCSW, you have a lot of employment options. LCSWs are needed in hospitals, mental health and substance abuse treatment centers, private practices and government agencies at the local, state and federal levels.
Master's-qualified social workers are in high demand. We used real-time job analysis software to examine more than 12,000 California social work job postings from the last year and found that 73 percent of those listings required a minimum of a master's degree.*
How to evaluate California MSW programs
Once you understand the process of becoming a social worker in California, you'll need to begin researching education options. There are many factors to keep in mind when evaluating social work programs, including:
Accreditation
Flexible learning options
A well-rounded curriculum
Experienced faculty
Price of tuition
When it comes to MSW programs in California, there are many to choose from. One of the most important factors to consider when making a decision is the return on investment. It is wise to be cost-conscious to ensure your program of choice doesn't break the bank.
To help get you started in your research, consult the graphic below to compare the modality and cost of the top MSW programs in California.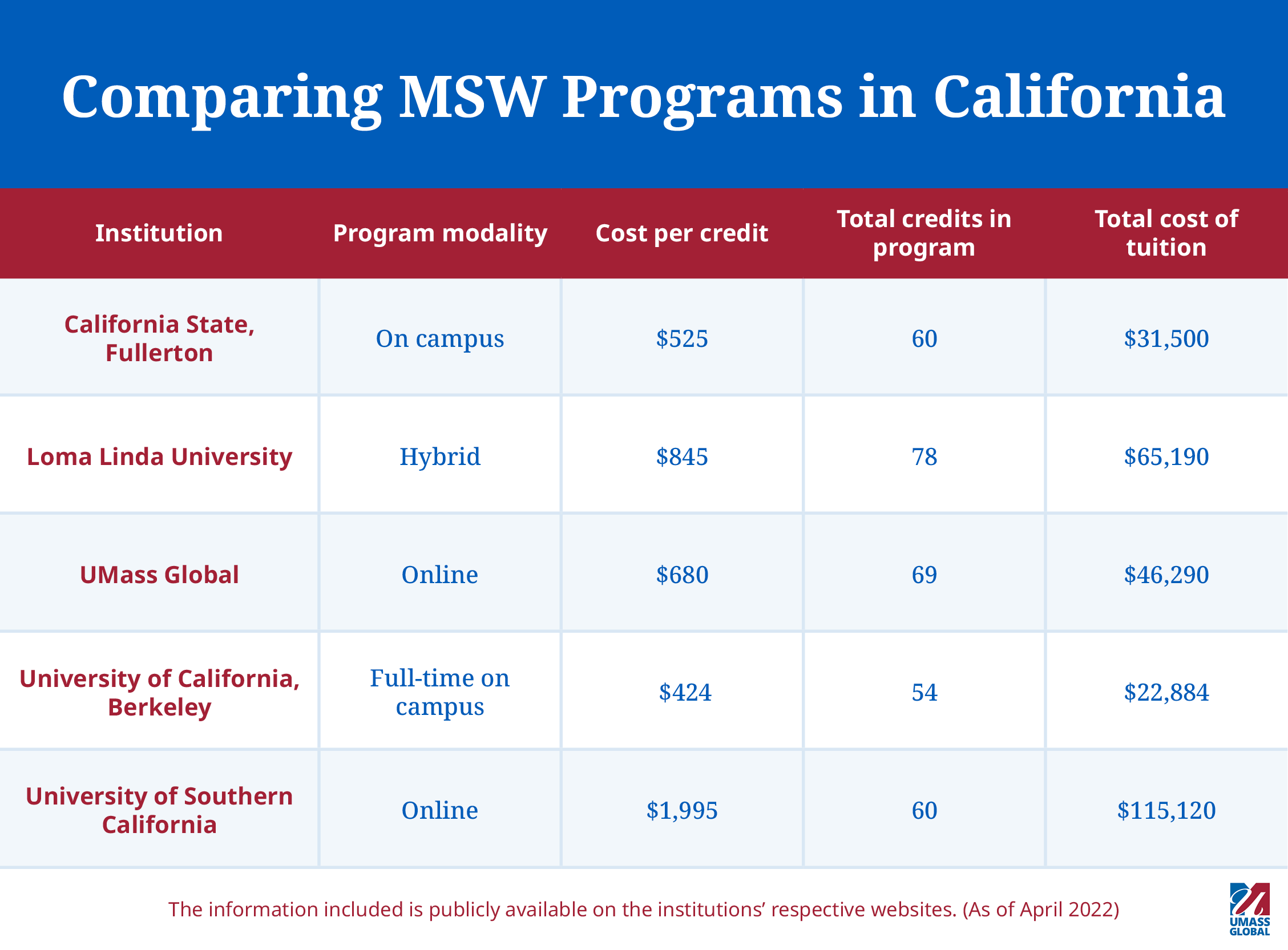 Serve your community as a social worker
Now that you understand how to become a social worker in California, you can see that these compassionate professionals are highly trained and well equipped for the challenges that come with this impactful career. If you're ready to join their ranks, UMass Global is committed to supporting you on your way to earning a California social work license.
If you need to complete your undergraduate education, learn more about our Bachelor of Arts in Social Work. If you've already earned a bachelor's degree, learn more about the Master of Social Work at UMass Global.
Want More Information About Social Work?
Dig deeper into this helping profession and explore its different career paths.