Suicide Risk Assessment & Intervention for Behavioral Health Professionals
Learn about how to conduct the initial suicide risk assessment, monitoring and re-assessment of suicide risk and review strategies focused on therapeutic interventions primary prevention of suicide.
Course Description
This course is intended for professionals working in mental health care field (therapists, social workers, psychologists) in addition to individuals working in public health, education, and criminal justice, in order to educate professionals on suicide risk assessment, associated factors, interventions, and suicide management/prevention strategies.
This course satisfies the California BBS Suicide Prevention training requirements under (AB 1436) for LMFT, LPCC, LCSW, and Educational Psychologists in addition to the BOP requirements for psychologists.
Duration
Approximately 6 hours
Up to 3 months to complete coursework
Estimated Tuition
$150
No additional materials required
Credit
6 CEs
Continuing Education Credit recognized by BBS
Key Features
Access textbooks and course materials completely online - no materials required.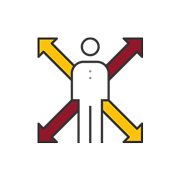 Move at your own pace as your schedule allows – no specific start times or dates.
Need help with an assignment? Submit your questions directly to the instructor for quick replies.
This course features interactive assignments and authentic assessments.
Explore how course content connects to the workplace using real-world case studies.
Upon successful mastery of this course, you will be able to

:
Identify factors involved with suicide risk and how to mitigate those risks


Interpret laws that pertain to suicide/harm to self

Explain the necessity of initial assessment, monitoring, and re-assessment of suicide risk

Summarize the strategies presented that focus on therapeutic interventions, primary prevention, and postvention of suicide
Please note:
CE credit is verified for California participants, requirements vary by state. Students should check their state boards before registering for these courses.

You may be eligible for tuition reimbursement, check with your
employer to see if you qualify.