News
Chancellor Gary Brahm to retire from University of Massachusetts Global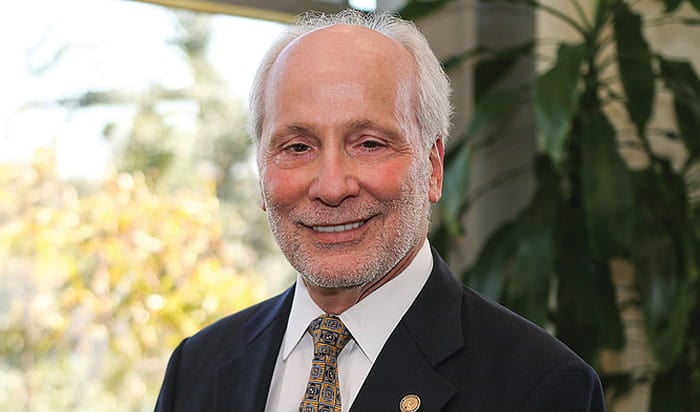 IRVINE, Calif. (January 19, 2022) – After spearheading one of the nation's most innovative transactions on behalf of college-going working adults, Gary Brahm, founding chancellor of University of Massachusetts Global, formerly Brandman University, has announced his plans to retire from the university effective September 1, 2022 and assume the honorary role of chancellor-emeritus.
"I am genuinely optimistic a new chancellor will bring fresh perspectives to our university," Brahm said. "Together, we have built a solid foundation of quality academic programs and services. We have also made a name for ourselves as innovators in the fields of online and competency-based learning. Our next CEO will be well-positioned to leverage UMass Global's strong reputation and expand its national footprint."
Brahm's service to higher education has spanned four decades. He began working for Chapman University in 1994 and Brandman University in 2007, one year before Brandman became a fully independent and accredited private nonprofit institution affiliated with the Chapman University system. As a career capstone, Brahm steered Brandman University's new affiliation with University of Massachusetts, creating UMass Global in September 2021. He is looking forward to spending more time with his wife of 44-years, Hildee Brahm, who plans to retire from her role as an attorney with the U.S. Office of Medicare Hearings and Appeals.
University of Massachusetts Global grew out of a strategic partnership formed between California-based Brandman University and UMass. UMass Global is a unique public-private delivery model that employs multiple technology platforms and educational modalities to offer academic programs tailored for working learners nationwide.
"There is a tremendous need in Massachusetts, and across the country, for higher education programs and services that are well-adapted to the lives of students who hold full-time jobs, care for family members, or serve in the military," said Robert J. Manning, chair of the UMass Global Board of Regents. "Millions of Americans stand to gain social and economic advantages through the attainment of quality certificates or college degrees. Under Chancellor Brahm's leadership, UMass Global has grown as a standout university for nontraditional students. That's why they are an ideal partner for UMass as we progress in our work to help working people gain the skills they need to succeed in tomorrow's economy."
Throughout Brahm's career, the plight of the working adult learner has been his primary focal point. He has worked to address the harsh reality that traditional college programs are not well matched to the needs of students who are working full-time, caring for family members, or serving in the military. UMass Global has continually adopted new technologies and educational innovations to provide students with an ecosystem of academic and support services.
Under Brahm's leadership, advanced technologies became the backbone of the institution. Data analytics informed curriculum and academic program development with the objective of tying educational outcomes to labor market demands. The university grew the number of courses available entirely online, helping students enroll regardless of where they work or live. Brahm also oversaw the development of competency-based education (CBE) programs that enable students to progress at their own pace (fast or slow). Unlike traditional credit-bearing college courses that reward students for seat time, CBE programs reward students as they master individual competencies.
Brahm has also played a key role in transforming how working students' higher educations are financed. Brandman University was among the first universities to join Guild Education in partnering with major U.S. employers, including Disney, Discover, and Walmart, to transform their employee tuition assistance programs in 2018. UMass Global has since created a one-on-one partnership with the Auto Club of Southern California and its affiliates, which is open to employees working in California and 20 other states. The first graduate to be complete her degree after participating in this partnership, called AAA Accelerate, graduated in November.
The university has received several recognitions while Brahm served as chancellor. These accolades include the Council for Adult and Experiential Learning's Institutional Service Award (2011), the Association of California Community College Administrators' Business Member of the Year Award (2013), the National Association of College and University Business Officers' Innovation Award (2016 and 2017), and the American Council on Education ACE/Fidelity Investments Award for Institutional Transformation (2017).
The University of Massachusetts Global Board of Regents has engaged a search firm to conduct a national search for the next chancellor. The university has also assembled a representative committee to assist in the hiring process.
###
ABOUT UNIVERSITY OF MASSACHUSETTS GLOBAL
University of Massachusetts Global, formerly Brandman University, is a private, nonprofit institution accredited by the WASC Senior College and University Commission. The university offers undergraduate, graduate, credential, and certificate programs designed to be relevant to more than 90 career paths. UMass Global serves nearly 23,000 students, about 16,000 of whom are enrolled in academic credit programs, at 25 physical campuses in California and Washington, as well as online. UMass Global offers fully online courses for students anywhere in the United States and for military personnel serving abroad. For more information, visit the university's website.
Media Contacts:
Terri M. Carbaugh, UMass Global Vice Chancellor of Public Affairs: [email protected]
Andrew Edwards, UMass Global Senior Multimedia News Writer: [email protected]
Become a Student
Have questions about enrollment, degree programs, financial aid, or next steps?