Online Learning
Is a self-paced, competency-based education right for you? Six questions to ask
You've established that you need a change.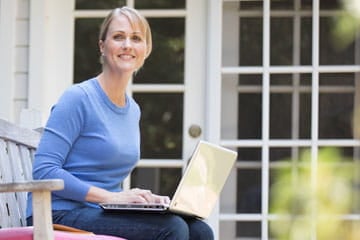 You know you need to enhance your professional skills.
And you know a degree is required for career advancement.
So, you're on the right track. Where do you start? Consider your answers to these important questions to help determine your next step forward.
1. What mode of education fits your needs and your life?
Do you prefer being in classroom with fellow students? Are you comfortable with technology and can keep up with the pace online? Or, are you driven, focused, and have acquired knowledge through your work and life experiences that makes a self-paced, competency-based education program the better fit? Determine what kind of teaching and learning style works best for you.
2. What is a competency-based education?
Competency-based education, also known as CBE, is a system of learning and assessment that is based on a student demonstrating the knowledge they already have and the knowledge and skills they need to know. Not all competency-based programs are self-paced. UMass Global MyPathallows each student to set an appropriate pace for completing competencies.
3. How committed is the university to its self-paced, competency-based education program?
A solid CBE program has invested in the curriculum, the technology and philosophy. A dedicated staff supports CBE learners, and the qualified faculty is accessible and engaged to improve the student's academic journey. UMass Global MyPath is the only CBE program visited and approved by the U.S. Department of Education for its consistent and substantive faculty interaction.
4. Are the required competencies clear and measurable?
The pathway to achieve your degree should be clear. You should know from the very beginning of your program what content and topics will be covered, as well as how your learning will be assessed - be that a project or paper, an activity or an exam. The learning journey should be clearly stated as well as how you will be assessed.
5. How is your level of competency assessed?
The process should be clear, and assessed through authentic work-related projects submitted by students and graded by qualified faculty. As competencies are achieved, students receive industry-recognized certifications and badges. That way, employers know the student has achieved this milestone.
6. How has the university engaged with external partners to develop the CBE program?
To ensure the CBE program has real-world relevancy and the skills learned are transferrable to key industries and occupations, the university should assemble and maintain advisory boards and partners in the fields of industry. Future employers need to join faculty in co-creating the curriculum to ensure work-ready skills and knowledge.
Why UMass Global
Here's why UMass Global MyPath may be your best option:
You're self-motivated. Think about a time you completed a project from start to finish. Were you able to pace yourself to complete it? If you can set your own deadlines to tackle the work, with a level of independence that includes support if and when you choose, competency-based education is ideal.
You have a wealth of knowledge and want a degree. UMass Global MyPath enables you to show your level of competency with a subject matter or skill set, so you can spend time learning the information you don't know…yet.
Pace drives price. With a flat annual tuition billed every six months, the more you know and the more competencies you master,

the greater value you're getting for your money. You're not tethered to a seat in a classroom, or to the pace of the instructor. Because MyPath is the only truly self-paced CBE program, you earn your degree as fast as you want to. Tuition reimbursement may be available through your employer, and MyPath is VA Veteran Education Benefit approved.
All costs included. All of your learning materials are embedded in MyPath. That means no extra books, no extra fees, not extra costs.
Become a Student
Have questions about enrollment, degree programs, financial aid, or next steps?