Flexible Online Learning
UMass Global offers two flexible online coursework options: instructor-led, session-based courses and competency-based, self-paced MyPath courses.
Leading the Way in Online Education: UMass Global's Innovative Approach and Flexible Learning Formats
UMass Global has been at the forefront in the development and delivery of online education. We were providing online coursework back in 2007, long before most of the higher ed universe, and that experience benefits our adult students. Our engaging, technologically advanced online coursework blends perfectly into busy schedules and working lives.
The goal is for our students to finish their degree or program, but that isn't always easy. Life can get in the way. Our online coursework reflects the need for flexibility, and that works for our adult learners.
Let's explain how our two online formats work.
Instructor-Led, Session-Based Coursework
Most of our degree, certificate, and credential courses are led by an instructor and are completed within eight-week sessions. For maximum flexibility, we have six different session start dates throughout the year. This allows you to focus on one topic before moving to the next session. If life gets in the way, you can take a session or two off, without any penalty, before jumping back in.
These courses will be a mixture of online classroom lectures and group sessions, along with other coursework that needs to be completed and delivered on dates set by the instructor, hence the "instructor-led" title.
Certain students perform better within this traditional structure with specific mileposts in the course sessions. Plus, they benefit from interaction with other students in their courses. Coursework is online, but some courses may require limited, in-person immersion sessions.
Competency-Based, Self-Paced Coursework
UMass Global MyPath
In our School of Business & Professional Studies, we have several "competency-based education" (CBE) programs. We call this coursework UMass Global MyPath. MyPath courses are completely self-paced. You can work through the coursework on your schedule, without set deadlines. As you complete a section you move to the next. You're completely in charge. For some students, this style of online learning is the perfect answer for changing work schedules. CBE courses demand discipline, but they are a great option for many adult learners.
With MyPath, our tuition is a set fee per CBE academic year, and there isn't any limit to the number of courses you can take within a 24-week billing period. All books and materials are included and provided electronically.
Explore UMass Global MyPath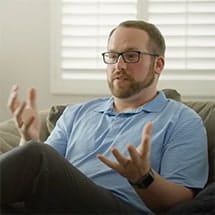 Compared to a brick and mortar, the professors are more open and I was able to learn better from them. The online community is what kept me going. I think this is the first time in my life that I can say I am proud of myself.
Leonard W.
MA in Special Education, Behavior Analysis
*Brandman University is now UMass Global
The online format works best for my busy schedule, they understand that we are busy working adults, so they are encouraging with high expectations. The professors support their students and truly want them to be successful.
Amy J.
MA, Special Education
My desire to go back to school was personal. Both my mom and dad graduated from high school, and I'm the first in my family to go on for my college education. I want to be a positive role model for my children. I can do all three – work, family and school; I didn't have to choose.
Brandy C.
MBA Program
The professors and staff were incredibly supportive, flexible, and helpful. I have graduated with the confidence to enter the world of education and be a knowledgeable educational leader.
Sarah D.
MA, Educational Leadership and Administration