Employer-Aligned Curriculum
Learn from dedicated faculty who are professionals working in and staying current with trends in their fields.
Designed for you, in cooperation with INDUSTRY EXPERTS.
University of Massachusetts Global faculty have their pulse on current employer needs and are committed to continuously updating and improving the curriculum to reflect what is going on in the real world. Our accomplished, industry experts are future-focused, but what you learn here can be applied directly to your career, right now.
Faculty members are scholar-practitioners, with the majority holding earned doctoral degrees and currently working in their fields.
You'll benefit from learning applicable skills that you can use NOW through our faculty's commitment to relevant industry trends.
Our advisory board members are made up of community leaders and national industry authorities that help provide direction for our programs.
Employer Aligned
University of Massachusetts Global advisory boards are made up of business and community experts in their fields who provide ideas and feedback that help guide and direct the development of new programs and curriculum.
Focused on the adult learner, we incorporate employment trends and needs into future ideas for academic programs and are continuously exploring new ideas to provide improved programs, resources, and services.
Our Backwards Course Design is at the heart of it all. UMass Global courses are designed from the job up. This means we start by understanding what knowledge and skills are required for students to be ready for today's workforce. Then we think about what students will need in order to demonstrate these competencies, and what programs and coursework will support this.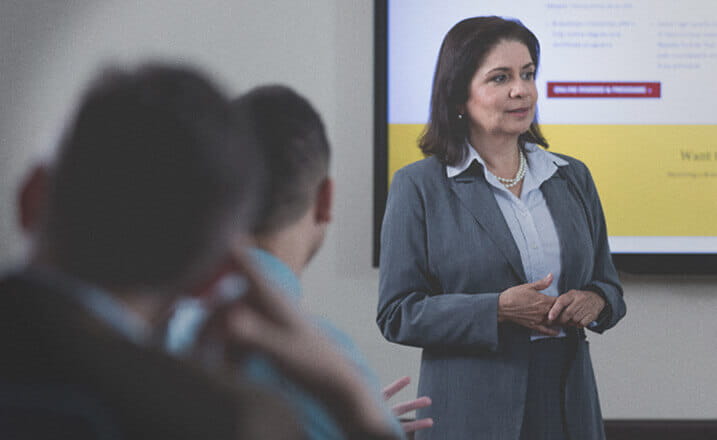 The MPA program gives the learner what is needed to address real, important, public problems and it dives into what is means to be a successful, innovative & effective government organization.
Chip M.
Masters in Public Administration 
I personally know that the MAOL prepared me to be a better leader and manage multiple projects. The program enabled me to take what I learned and apply in the workplace right away.
Aimee A.
MA, Organizational Leadership
The professors and staff were incredibly supportive, flexible, and helpful. I have graduated with the confidence to enter the world of education and be a knowledgeable educational leader.
Sarah D.
MA, Educational Leadership and Administration
Industry Experts
Instructors at the University of Massachusetts Global, formally Brandman University, are a diverse group of scholar-practitioners who currently work in their field of expertise. They are able to share insights into where the industry is going and how students must prepare for success, understanding industries from perspectives all across the nation.
In addition, the faculty members serve as your mentors, providing career guidance as you seek to advance your career or change occupations.
UMass Global faculty members are innovative, always looking for ways to improve and engage your student experience. You have the opportunity to learn under professionals working in the jobs you hope to have someday.
Meet Your Instructors
Applicable Skills
UMass Global faculty consider evolving student needs and assess their instructional techniques to continuously improve educational experiences. All members practice the school's iDEAL (Instruction Design for Engaged Adult Learning) model of teaching, which incorporates best practices and adult learning theories that focus on engaged learning.
Still active in their respective industries, our faculty members have the necessary skills to teach current, relevant curriculum.
If you're already working in your career industry, you can immediately apply these new skills to your workplace. Many courses support this through reflection assignments that ask you to think about how you could put the principles and skills you are learning to use in real-world cases you are encountering now or have encountered in the past.