News
In her own words: A UMass Global academic advisor on the meaning of International Women's Day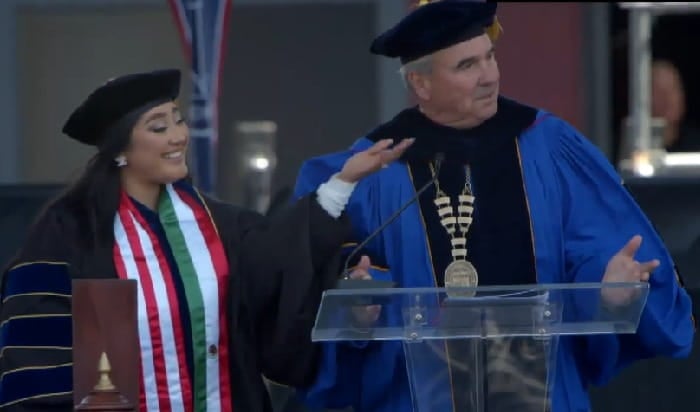 Dr. Stephanie Herrera points out her parents in the audience to Chancellor Andrews during UMass Global's 2022 Southern California Commencement. Photo credit: UMass Global.
IRVINE, Calif. (March 7, 2023) – Inspired by the meaning of International Women's Day, which takes place on Wed. March 8, Stephanie Herrera, academic advisor and UMass Global alum (Ed.D., '22), submitted the personal account below of what advocacy for women means to her.
International Women's Day is a day to celebrate the social, economic, cultural, and political achievements of women.
More so, the women who came before us and paved the way to give us the opportunities we have now. Throughout ancient and modern history, women have collaborated and led purposeful action to redress inequality in the hope of a better future for their communities, children, and themselves.
My goal is to empower young women just as others have done before. Within my community, I volunteer at a nonprofit homeless shelter whose focus is to teach women soft skills so they may get hired on and pay for their living. In addition, I am part of East African Community Services, where I serve as a mentor to young women from Kenya seeking asylum.
I can't recall who shared this quote, but someone once said, "Knowledge is power, but it becomes powerless the moment we fail to share it." With that being said, I share all the knowledge I possibly can as often as I can as I have seen how this knowledge has transformed the lives of those young women that may have not had the same opportunities as I did growing up.
Become a Student
Have questions about enrollment, degree programs, financial aid, or next steps?