News
UMass Global Board of Regents appoints new chancellor to lead the drive for coast-to-coast growth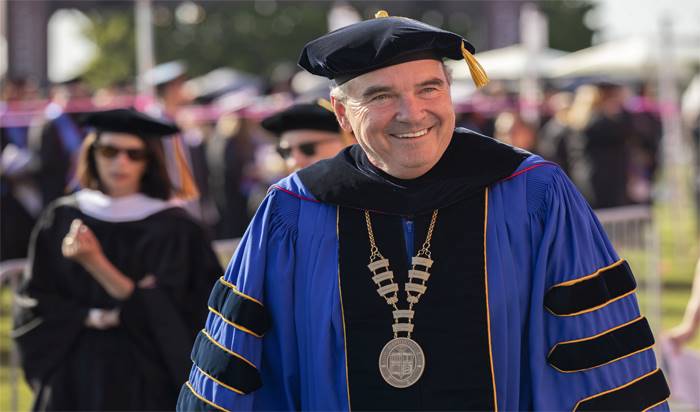 Photo Credit: Matt Gush for UMass Global
IRVINE, Calif. (June 30, 2022) – University of Massachusetts Global announced today that Dr. David Andrews has agreed to serve as the university's next chancellor. The Board of Regents offered the position to Andrews after conducting a national search for an executive with an entrepreneurial mindset, experience managing an online adult-focused university, a commitment to diversity, and student-centered approach to leadership.
"Dr. Andrews has an exemplary record as a professor, faculty leader, and well-recognized thought leader," said Regent Katherine Newman, co-chair of the search committee and system chancellor for academic programs at University of Massachusetts. "His lifelong devotion to teaching and learning, coupled with his gifts as an imaginative administrator, will serve Dr. Andrews and his colleagues well as UMass Global cements its international reputation as a leading university for working learners from all walks of life."
Andrews is the second chancellor in the history of UMass Global, having served in an interim role since May 2022. UMass Global, a private nonprofit university formerly known as Brandman University, affiliated with the public UMass system in September 2021, a move intended to connect a distinguished land grant institution with a first rate university designed to help students achieve their educational goals while holding down jobs and raising their families.
Andrews will be empowered to develop a strategy for UMass Global to grow its enrollment of working adults in New England and throughout the United States and abroad.
"This is the time for bold action," Andrews said. "UMass Global already has a well-developed and best-in-class portfolio of online and competency-based programs. I look forward to working alongside the faculty and staff and building upon these innovations. Without question, the university will soon emerge as the leading open access institution of service to the traditionally underserved."
Andrews also serves as president of the National Laboratory for Educational Transformation. He previously held the chief academic officer's post at Versidi, a Bertelsmann Education Group venture focused on developing its Teach Us program to help prospective teachers in several states qualify for employment with local school districts. He has considerable experience leading complex higher education organizations.
"UMass Global's Board of Regents has found a top-tier academic leader in Dr. Andrews," UMass President Marty Meehan said. "Dr. Andrews knows the ins and outs of delivering high quality academic programs via in-person and fully online modalities while navigating the fast-changing public and private higher education sectors, all driven by a passion to serve the underserved."
Andrews served as president of National University from 2016 to 2021, overseeing the introduction of National's first doctoral degrees, enrollment growth from about 30,000 to some 45,000 students, and a 10-year accreditation from the WASC Senior College and University Commission.
He previously led the School of Education at Johns Hopkins University as its dean from 2010 through 2016. U.S. News and World Report twice, in 2014 and 2015, honored the school as the nation's best Graduate School of Education during Andrews' tenure. Andrews also led substantial growth in the school's online offerings, with 60% of School of Education enrollees having online courses on their schedules five years after the school lacked any online offerings.
At Johns Hopkins, Andrews also held a professorship in the Department of Population, Family, and Reproductive Health and oversaw the university's participation in the establishment of the first public school to be constructed in East Baltimore for local children in more than a quarter century. Andrews has also held multiple professorships and deanships at The Ohio State University, where he served as the founding dean of the College of Education and Human Ecology and launched the university's international service-learning initiatives. Prior to that he taught as a member of the faculties of the University of Oregon and Oregon State University.
Andrews is a first-generation college graduate. He earned an associate degree at Pensacola Junior College in 1975 and completed a Bachelor of Arts in Psychology at Auburn University in 1977. He proceeded to earn a Master of Arts in Child Development at Kansas State University in 1980 and completed his Ph.D. in child development at Florida State University in 1983.
"Many UMass Global students are first-generation students themselves or have had challenging higher education experiences before enrolling with us," said Regent Don Kilburn, co-chair of the search committee and CEO of UMass Online. "Dr. Andrews has spent his life in academia, but he remembers what it's like to be starting in college. Under his leadership, UMass Global's identity and purpose as a student-centered institution will be secure."
###
ABOUT UNIVERSITY OF MASSACHUSETTS GLOBAL
University of Massachusetts Global, formerly Brandman University, is a private, nonprofit institution accredited by the WASC Senior College and University Commission. The university offers undergraduate, graduate, credential, and certificate programs designed to be relevant to more than 90 career paths. UMass Global serves nearly 23,000 students, about 16,000 of whom are enrolled in academic credit programs, at 25 physical campuses in California and Washington, as well as online. UMass Global offers fully online courses for students anywhere in the United States and for military personnel serving abroad. For more information, visit the university's website.
Media Contacts:
Terri M. Carbaugh, UMass Global Vice Chancellor of Public Affairs: [email protected]
Andrew Edwards, UMass Global Senior Multimedia News Writer: [email protected]
Become a Student
Have questions about enrollment, degree programs, financial aid, or next steps?