News
UMass Global continues to honor 2022 graduates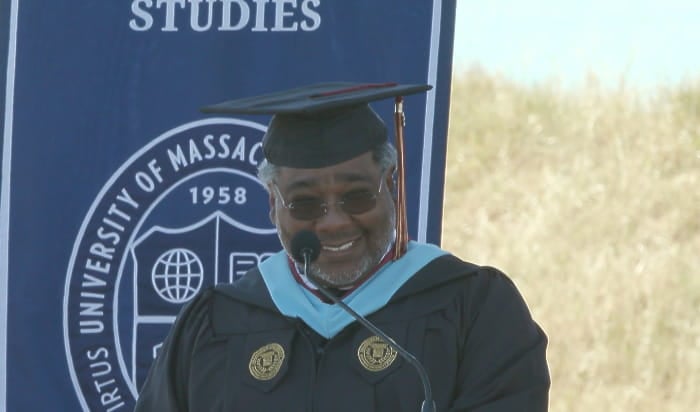 UMass Global graduates hailing from the Golden State's northern regions assembled Saturday, June 11 at Cal Expo in Sacramento to celebrate Northern California Commencement. UMass Global has so far conferred about 2,000 degrees this year after awarding more than 3,300 degrees in 2021.
The graduates who gathered at Cal Expo included student speaker David Earl Cobb IV. Cobb, who earned a Master of Arts in Educational Psychology and Education Specialist in School Psychology degrees, recounted how he needed to discover a new line of work about the time he attained 60 years of age.

Cobb shared how he started working with school children as a paraeducator. He then determined to earn an advanced degree after watching his wife work toward a master's degree from this university on her way to becoming a marriage and family therapist.
"If you chase anything in life chase the dream that gets you excited about living," Cobb said during his remarks. "Chase the dream that gives you hope, that gives you happiness, and dream of a better life. Chase the dream that makes you want to be a better person. Chase the dream that inspires you to learn, to think, to create, to live joyfully. Chase the dream that reinforces in your soul that you can make a difference. Chase the dream that makes you want to transform your heart. And when you chase that kind of dream, you'll catch it, and it will become reality."
Like Cobb, other graduates who celebrated their accomplishments at Cal Expo earned degrees preparing them for high levels of service and leadership. Those who earned the right to participate in the ceremony completed programs in such essential disciplines as business administration, early childhood education, psychology, social work, and teaching, among other subjects.
UMass Global graduates typically balance their studies with other important commitments. Interim Chancellor Dr. David Andrews congratulated the new members for their persistence and tenacity before they crossed the stage.
"The majority of our graduates juggled working full-time, taking care of their family, and some even serving in the military," Andrews said. "But graduates, you did not let anything get in your way."
The Northern California followed the university's Southern California Commencement, held on May 22 in Irvine and Joint Base Lewis-McChord's June 3 event honoring graduates from multiple universities. The university's final event planned for 2022's commencement season, the
Combined Washington Commencement
, is planned for July 15 at Jefferson County Fairgrounds Picnic Pavilion in Port Townsend, Washington.
Become a Student
Have questions about enrollment, degree programs, financial aid, or next steps?