K-12 Teaching and Education
As a top provider of teaching credentials in California, UMass Global's CTC-accredited programs prepare you for leading your classroom and community.
Become the Teacher Who Inspired You
All of us remember that one teacher growing up who truly inspired us – the one all others must measure up to. More than likely, that's what brought you to this place today. You want to be like that teacher – you want to inspire others!
If that's your dream, University of Massachusetts Global is where you need to be.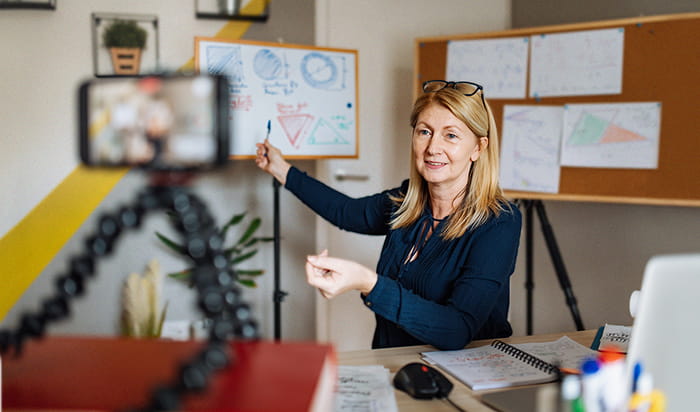 Understanding Teaching Qualifications
Teaching qualifications can seem confusing, especially when they vary from state to state. Learn about the various credentials, licensure, certificates and more. Plus get in-depth answers to the following common questions:
What are the various educational pathways for teachers?
What is alternative career teacher certification?
Do you need specific credentials to teach certain subjects?
Why pursue teaching certificates and authorizations?
Your roadmap to becoming a teacher in California
So when it comes to gearing up for a robust education career in the state of California, where should you start? UMass Global is here to help!
We designed this helpful infographic to assist you in navigating your path to becoming a teacher in California. Once you identify your desired destination, use this tool to plot your next steps.
Find Your Teaching Credential or Education Program
Frequently Asked Questions
Learn more about how to become a teacher and education options that can prepare you for the classroom.
Teaching Credentials
What is the Single Subject Teaching Credential?
If you have your sights set on teaching a particular subject, you should pursue the
Single Subject Teaching Credential
. Educators holding this credential are authorized to teach a specific subject to students ranging in age from preschool to 12th grade, and less commonly, adult students.
See possible subject areas
.
What is the Multiple Subject Teaching Credential?
A
Multiple Subject Teaching Credential
is the primary requirement for teaching in California's elementary schools, grades K-6, but may authorize the holder to teach in higher level grades as well. It includes course work to allow teachers to support students who are learning the English language (ESL).
Get more info
.
What is the Education Specialist Instruction Credential?
The
Education Specialist Instruction Credential
authorizes educators to teach and provide special education support for students in a particular area of focus such as autism and language development. They can also conduct educational assessments to identify how to best help students progress toward achieving their academic goals.
See more specialties
.