News
Diverse: Issues in Higher Education features UMass Global Professor Kimberly Greene on podcast highlighting modern teaching styles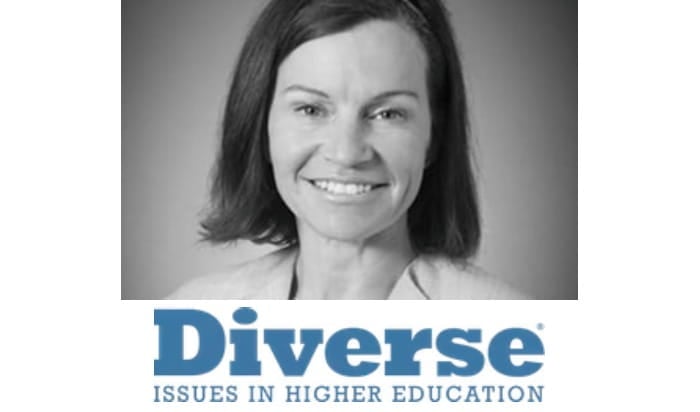 IRVINE, Calif. (May 2, 2023) – Diverse: Issues in Higher Education published "Shifting Cultural Perspectives on Education with Dr. Kimberly Greene" on April 27 as an episode of its "In the Margins" podcast series. Host David Pluviose and Greene, a professor for University of Massachusetts Global's School of Education, shared a conversation revolving around how K-12 educators can use technology and other methods beyond paper and pencil techniques to help students with a multiplicity of learning styles and cultural backgrounds form personal connections to new material.
"The learning is personal and meaningful, as opposed to feeling like it's a series of doors you have to figure out what the skeleton key is to get through," Greene said. "Opening up the experience so that it is more personal, it affords that freedom to seek out representation, to seek out the people that look like you."
Greene shared with Pluviose how she "Forrest Gumped" her way into education when her involvement in the performing arts led her to teaching dance and theater classes for children. This, combined with Greene's father introducing her to the world of electronics and tinkering, led her to earning a doctorate in educational technology.
Now, Greene's advocacy for technology in the classroom is aligned with her view that students benefit from having many alternatives to verify what they are learning. These tools could even be a computer game like Minecraft if a student can build a virtual construct inside the game and then explain how that project connects to a lesson.
"It's about exploiting how different technology tools let us do, and see, and build, and think, and experience in multiple ways," she said. "I can approach music from notes on a page. I can approach music from hearing a recording. I can color code the way different tones feel to me and take those colors and start looking for patterns and build something that, to me, I can then explain."
Looking back to her own school years, Greene said she had a eureka moment when her second-grade teacher wouldn't let the classroom see how she performed subtraction because the teacher learned a different method of arithmetic than the technique she was expected to teach. Since there are multiple ways to learn a given concept, Greene said teachers using technology can help students leverage their individual learning styles and be better prepared for future challenges that cannot be solved by rote memorization alone
"If we can agree on what it means to be able to have a certain understanding and ability, why does it have to be that there's only one way to demonstrate it?" Green asked. "When we understand out in the real world, replication doesn't make you innovative or successful. You may survive, but it doesn't afford you to thrive."
Become a Student
Have questions about enrollment, degree programs, financial aid, or next steps?