News
UMass Global counting down to J.E.D.I. Days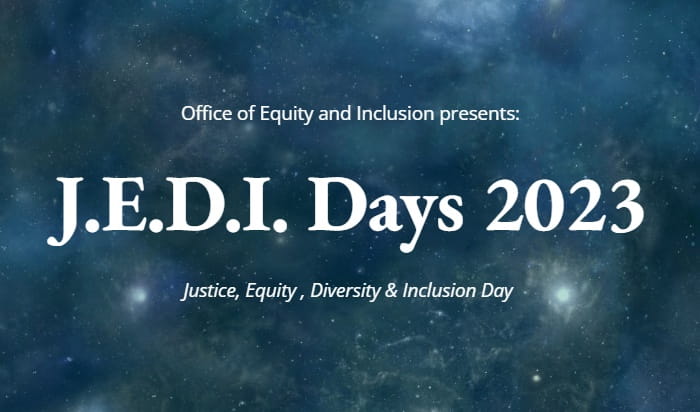 Image: Office of Equity and Inclusion

IRVINE, Calif. (April 25, 2023) – University of Massachusetts Global, in 2020, empowered the Office of Equity and Inclusion (OEI) to coordinate activities fostering cultural awareness and empathy throughout the university. OEI evolved from the university's former Diversity, Equity, and Inclusion Committee at a time when universities and companies nationwide were investing in similar efforts in response to racist incidents, including the police murder of George Floyd and numerous attacks targeting Asian communities.
Since OEI's founding at UMass Global, members of the office have facilitated university-wide communications highlighting cultural events and holidays; convened affinity groups for people sharing cultural, identity-based, or experience-based connections; and assisted with a recent update to the Department of Social Work's programs and operations. OEI inaugurated J.E.D.I. Day in 2022 as a virtual gathering to help participants become more aware of the many cultures and identities represented within the UMass Global community. The OEI team, led by Vice Chancellor of Equity and Inclusion Jálin B. Johnson and including Jenny Park, equity and inclusion specialist, and Hugo Yepez, OEI strategic plan evaluation and assessment director, are now planning for J.E.D.I. Days as an expanded two-day event.
J.E.D.I. – here an acronym standing for Justice, Equity, Diversity, and Inclusion – plays off its connection to the heroic characters of the "Star Wars" media franchise with J.E.D.I. Days scheduled to begin on May 4. (Fans will get the joke: "May the Fourth be with you.") Nevertheless, J.E.D.I. Days' agenda is concerned with providing faculty and staff with time to focus on real-world UMass Global students' wants and needs.
OEI's schedule for May 4 sets time for a Student Experience Panel, another panel focused on the Preferred and Chosen Name Effort for students who want to be called by a name that may not appear on official government documents, and a Military/Veteran Panel. The agenda for May 5 includes a Student Advisory Initiative Groups & Alumni Panel, a recap of OEI's past year, and an update on the Advocating for Equity project. The full agenda can be viewed online at the J.E.D.I. Days website.
For more information on J.E.D.I. Days or other OEI activities, please contact the office directly by emailing [email protected].
Become a Student
Have questions about enrollment, degree programs, financial aid, or next steps?