Veterans
At UMass Global we know how important education is to your career goals. We salute your dedication to serving our country by participating in programs that support you as a veteran and as a student.
Honoring Those Who Have Served
We are proud to be consistently ranked by U.S. News & World Report for Best Online Bachelor's Programs for Veterans. We salute your dedication to serving our country by providing higher education with military services staff ready to serve you in transitioning to civilian life.
Why UMass Global:
Education built for you
Credit for military training
Military benefits approved
Military Services staff ready to serve
High graduation and success rates
Flexible time to degree
Recognized as a military-friendly institution
Online programs available nationwide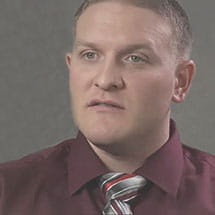 As a veteran, I definitely encourage other veterans to seek out what services the school offers. And even if you don't think you can qualify for the advantage, at least ask. It's not accepting a handout. It's encouraging other members in the military to take part in the program.
Chris S.
BA, Organizational Leadership
I don't know that a more significant role was played in my mental health than Brandman*. With recent studies and reports of veteran suicide rates on the rise, giving us relationships with others with similar backgrounds and giving us a purpose and belonging will go a long way in reducing this number.
Zane S.
MBA
*Brandman University is now UMass Global
Veteran Benefits
You've earned it! Learn about the education benefits that you may qualify for to help cover the cost of school.
GI Bill
This bill provides financial support to honorably discharged Veterans with 90+ days of aggregated service on or after 9/11/2001 or those discharged with a service-connected disability after 30 days. Read More
---
Yellow Ribbon Program
UMass Global participates in the U.S. Department of Veterans Affairs (VA) GI Education Enhancement Program, otherwise known as the "Yellow Ribbon Program". Read More
---
Montgomery GI Bill® Active Duty (MGIB-AD) - Chapter 30
Providing education benefits to Veterans who have two or more years of active duty. In general, benefits are payable for up to ten years following an active duty honorable discharge. Read More
---
Veteran Readiness and Employment (VR&E) - Chapter 31
This program provides individualized veteran readiness and supportive services to assist Veterans with service-connected disabilities to prepare for, find, and keep suitable jobs compatible with their skills and abilities. Read More
---
Top Programs for our Veteran Students
Veterans transitioning to civilian life bring a unique skill set to the job search. Many resources have been created specifically to assist veterans in their career development and job search.
Still Have Questions?
Get the answers you need to begin your program at UMass Global by exploring more FAQs.