News
UMass Global celebrates Women's History Month 2022
IRVINE, Calif. (March 4, 2022) – March's arrival means it's time for UMass Global to commemorate Women's History Month. For example, the Santa Maria Times reported on associate professor of sociology Dr. Lata Murti helping to organize the Santa Maria Valley Women's March, themed "Still, We Rise". Joining her at the march will be her 13-year-old daughter.

Women and girls account for nearly 51% of the U.S. population, yet many chroniclers have only recently taken on the challenge of making sure women receive full and fair representation in the stories of American and world history.

The National Women's History Museum tells how Women's History Month has its origins in Santa Rosa, a California city north of the San Francisco Bay. Santa Rosa educators' late 1970s endeavor to call attention to women's history quickly attracted national attention.

From the National Women's History Museum:

The Education Task Force of the Sonoma County (California) Commission on the Status of Women planned and executed a "Women's History Week" celebration in 1978. The organizers selected the week of March 8 to correspond with International Women's Day. The movement spread across the country as other communities initiated their own Women's History Week celebrations the following year.

In 1980, a consortium of women's groups and historians — led by the National Women's History Project (now the National Women's History Alliance) — successfully lobbied for national recognition. In February 1980, President Jimmy Carter issued the first Presidential Proclamation declaring the Week of March 8, 1980 as National Women's History Week.
Subsequent Presidents continued to proclaim a National Women's History Week in March until 1987 when Congress passed Public Law 100-9, designating March as "Women's History Month." Between 1988 and 1994, Congress passed additional resolutions requesting and authorizing the President to proclaim March of each year as Women's History Month. Since 1995, each president has issued an annual proclamation designating the month of March as "Women's History Month."
UMass Global applauds the women who make daily contributions to the university's ongoing success by serving as members of our faculty and staff. We are also grateful to the many women who have chosen our university. During the 2020-21 data year, more than two-thirds of the students receiving a degree from this university identified as female.
In the spirit of Women's History Month, we encourage members of the UMass Global community to spend time with the National Women's History Museum's biographies of notable women. Excerpts from selected biographies are provided here: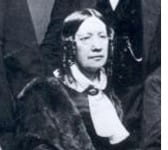 Catherine Beecher, educator and writer: "A member of a prominent activist and religious family, Catharine Esther Beecher was a nineteenth century teacher and writer who promoted equal access to education for women and advocated for their roles as teachers and mothers. Embracing traits associated with femininity such as nurturance, Beecher argued that women were uniquely suited to the moral and intellectual development of children, either as mothers or as educators." Photo credit: National Endowment of the Humanities.
Amanda Blackhorse, activist: "Amanda Blackhorse has always seen Native American women fighting against injustice. Blackhorse, member of the Navajo Nation, a social worker and mother of two, served as the named plaintiff in the 2006 lawsuit Blackhorse et al v. Pro-Football Inc. Blackhorse continues to fight for justice and respect for Native Americans and is one of many Native American activists who deserves credit for the proposed name change from the Washington Football Team, formerly called the 'Redskins.'"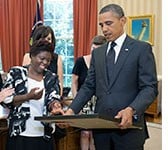 Lois Curtis: artist and co-plaintiff in a major Supreme Court case: "Lois Curtis was one of the plaintiffs in the landmark Supreme Court case Olmstead v. L.C. (1999) that established the right of individuals with disabilities to live in the least restrictive settings possible. Diagnosed with cognitive disabilities and schizophrenia, Curtis is no longer confined to an institution – she now lives in the community and works as a visual artist and public speaker." Photo credit: Official White House Photo by Pete Souza, Public domain, via Wikimedia Commons.

Kati Karikó, scientist: "Kati Karikó neve
r doubted her research on mRNA would work, even if most people around her dismissed it. Karikó's research and perseverance proved that mRNA vaccines were possible and paved the way for the Moderna and Pfizer-BioNTech vaccines to end the Covid-19 Pandemic. Photo credit: Szegedi Tudományegyetem, CC BY-SA 4.0, via Wikimedia Commons.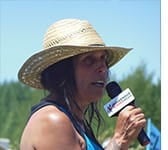 Winona LaDuke, activist: "Winona LaDuke, a Native American activist, economist, and author, has devoted her life to advocating for Indigenous control of their homelands, natural resources, and cultural practices. She combines economic and environmental approaches in her efforts to create a thriving and sustainable community for her own White Earth reservation and Indigenous populations across the country." Photo credit: Frypie CC BY-SA 4.0, via Wikimedia Commons.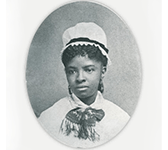 Mary Eliza Mahoney, nurse: "Eager to encourage greater equality for African Americans and women, Mary Eliza Mahoney pursued a nursing career which supported these aims. She is noted for becoming the first African American licensed nurse." Photo credit: Public Domain, via Wikimedia Commons.
Joyce Parrish O'Neal, social worker and voting rights activist: "On March 7, 1965, Joyce Parrish O'Neal stood on the steps of her church, the Brown Chapel African Methodist Episcopal (AME) Church, and watched the violence unfolding along the Edmund Pettus Bridge in Selma, Alabama. While O'Neal was not on the bridge that day, she had participated in many marches supporting African Americans' right to vote during the Civil Rights Movement."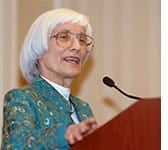 Bernice Sandler, educator and activist: "Known as the 'Godmother of Title IX,' Bernice Sandler fought for women's rights in education. After being denied equal access to teaching jobs at her university, Sandler took matters into her own hands. In addition to starting a social revolution for women's rights, she became the first woman ever appointed to a Congressional committee to work specifically on women's issues." Photo credit: Governor Press Office (Photographs, Electronic) Maryland State Archives.
Muriel Siebert, financier: "Muriel 'Mickie' Siebert was a fearless Wall Street broker that was known as The First Woman of Finance. She was also the first woman to become a member of the New York Stock Exchange, and the first woman to become the superintendent of banking for New York State. Although she did not have a college degree, Siebert successfully became one of Wall Street's most popular names."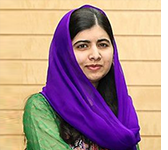 Malala Yousafzai, Nobel Peace Prize laureate: "At age eleven, Malala Yousafzai was already advocating for the rights of women and girls. As an outspoken proponent for girls' right to education, Yousafzai was often in danger because of her beliefs. However, even after being shot by the Taliban, she continued her activism and founded the Malala Fund with her father. By age seventeen, Yousafzai became the youngest person to receive the Nobel Peace Prize for her work." Photo credit: 内閣官房内閣広報室, CC BY 4.0 via Wikimedia Commons.
Become a Student
Have questions about enrollment, degree programs, financial aid, or next steps?