News
UMass Global to honor Juneteenth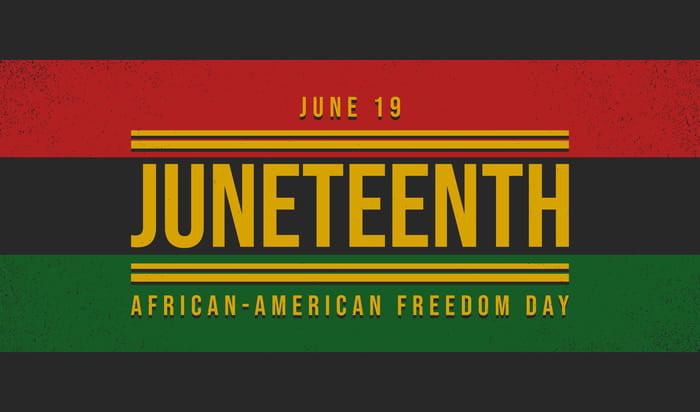 In observance of UMass Global's newly established tradition of recognizing Juneteenth, university leadership has once again granted early time off for all employees. This year, employees will be able to conclude their workday at noon on Friday, June 17.

Juneteenth commemorates a pivotal day in the history of African Americans' emancipation from enslavement. The celebration of Juneteenth also focuses our attention on the subsequent struggles to affirm and defend civil rights throughout the nation.

Juneteenth specifically recalls the events of June 19, 1865 in Texas. Representatives of the victorious Union Army, after the fall of the Confederacy, then enforced the mandate for freedom expressed in the words of the Emancipation Proclamation. The National Museum of African American History & Culture keeps the memory of these events alive.

Even though the Emancipation Proclamation was made effective in 1863, it could not be implemented in places still under Confederate control. As a result, in the westernmost Confederate state of Texas, enslaved people would not be free until much later. Freedom finally came on June 19, 1865, when some 2,000 Union troops arrived in Galveston Bay, Texas. The army announced that the more than 250,000 enslaved black people in the state, were free by executive decree. This day came to be known as "Juneteenth," by the newly freed people in Texas.

The post-emancipation period known as Reconstruction (1865-1877) marked an era of great hope, uncertainty, and struggle for the nation as a whole. Formerly enslaved people immediately sought to reunify families, establish schools, run for political office, push radical legislation and even sue slaveholders for compensation. Given the 200+ years of enslavement, such changes were nothing short of amazing. Not even a generation out of slavery, African Americans were inspired and empowered to transform their lives and their country.

President Biden in 2021 signed legislation enshrining Juneteenth as a federal holiday. Although the federal observance is Monday, June 20, UMass Global leadership has chosen to observe the holiday this year on Friday, June 17 to avoid disruptions to learning activities and student services. This will be the third consecutive year in which the university celebrates Juneteenth by offering early dismissal to faculty and staff.

Several community events, some of which are listed below, provide opportunities for readers interested in participating in public celebrations over the coming weekend. We hope that as Juneteenth becomes a more prominent aspect of American culture, more people of all races and backgrounds will come together to celebrate emancipation and acknowledge the injustices stemming from enslavement and its odious legacy. Being aware of history is a necessary step toward fostering a spirit of reconciliation and healing that motivates us to strive for a better nation for all people.

Juneteenth events are planned for several communities where UMass Global has campuses or important relationships with students and colleagues. Several events are listed here, and readers may learn of additional events via community message boards, local news sources, or social media.
Readers interested in learning more about the history of Juneteenth and emancipation are encouraged to access the following resources:
"

Why all Americans should honor Juneteenth

," a Vox video narrated by Karlos K. Hill, chair of Clara Luper Department of African and African-American Studies at the University of Oklahoma. The video includes archival recordings from formerly enslaved people who lived through emancipation.

The National Museum of African-American History & Culture's online

Juneteenth exhibit

includes a video presentation with oral history specialist Kelly Navies' discussion the evolution of Juneteenth celebrations from the beginning of Reconstruction to the modern day.

Become a Student
Have questions about enrollment, degree programs, financial aid, or next steps?