Ordering Resources
Regalia, announcements, diploma frames, flowers, photos, and class rings
Commencement Ordering Resources
UMass Global partners with the following companies to provide exclusive and licensed items for your graduation merchandise needs. Custom UMass Global regalia is available for all degree levels through Oak Hall, along with announcements and other souvenir items. Additionally, diploma frames, class rings, and more are available for our graduates to purchase. Please review the options below and reach out to the vendors directly with any ordering questions or concerns.
Regalia & Announcements
Oak Hall is the exclusive company authorized by the university to provide official UMass Global graduation regalia and announcements. Orders will be mailed directly to purchasers. It is recommended that you open your regalia package as soon as it arrives, to ensure that your order was processed correctly.
Please click "Read More" for ordering deadlines, item descriptions, and customer support phone numbers.
Reminder: Students without proper commencement attire will not be allowed to participate in the ceremony; there will be no exceptions.
Associate, Bachelor, and Master's Graduates
Custom, sustainably made caps and gowns may be ordered online through the Oak Hall order page provided above. Orders will ship approximately five weeks from when the order is placed.
Purchased Regalia: packages include a beautifully tailored black gown adorned with UMass Global logo on tabs, mortar board cap, and red tassel (UMass Global blue stole is optional). Master's package includes a hood with degree-specific binding and blue and red lining. Please note, we do not offer rental regalia to our associate, bachelor's, and master's degree graduates.
Master's Hoods: View the easy reference hood chart for the exact hood color assigned to your school and degree.
Deadlines to order:
Southern California Ceremony: April 14, 2023

JBLM Washington Ceremony: April 28, 2023

Northern California Ceremony: April 28, 2023
Doctoral Graduates
The university partners with Oak Hall to provide custom doctoral regalia to our Ed.D. and DNP graduates. Doctoral graduates have the option to purchase or rent their regalia. All purchased doctoral regalia is custom made, high quality, and requires earlier purchase deadlines in order to arrive in time for the Southern California Commencement. Please allow at least nine weeks from ordering until arrival. Each item in the set can be ordered separately, to allow our doctoral graduates to mix and match rentals and purchases within the same order.
Purchased Regalia: The package consisting of a custom UMass Global black gown with blue velvet panels and bars, degree specific hood binding and blue and red lining, and tam with attached gold tassel is $1,003 (plus shipping).
Rental Regalia: The package consisting of a black rental gown with black velvet panels, degree specific hood binding and blue and red lining, and tam with year-dated gold tassel is $100 (plus shipping).
Deadlines to order:
Purchase for Doctoral Ceremony: March 17, 2023

Rent for Doctoral Ceremony: April 14, 2023
Customer Service: If you have any questions regarding your regalia or announcements order, please contact Oak Hall at 1-540-387-0000.
**As of July 2022, the university is no longer offering Brandman regalia for purchase. If you already own Brandman regalia and would like to wear it, that is permissible at our ceremonies.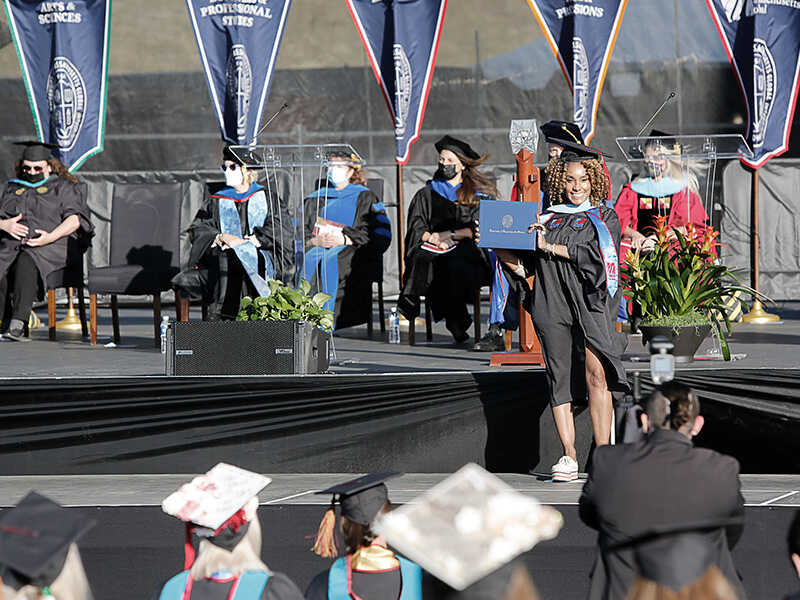 Souvenir Diploma Frames
UMass Global has partnered with University Frames to offer graduates both UMass Global and Brandman diploma frame options for purchase. Grads and their family members can enjoy a variety of styles and designs to meet their needs.
The UMass Global diploma frame will fit an 8.5" x 11" diploma and the Brandman University diploma frame will fit an 11" x 14" diploma.
ORDER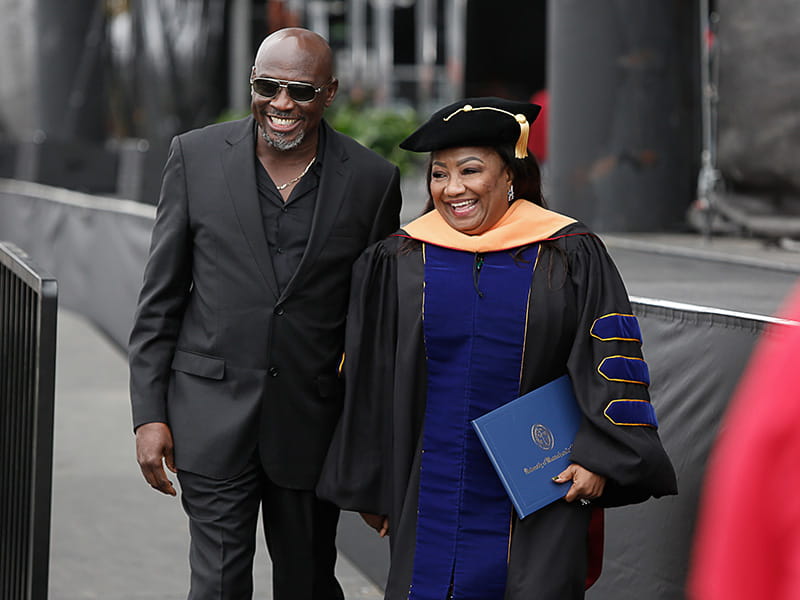 Class Ring
Celebrate your academic achievement with your official ring from Balfour. Their expert craftsmen design rings that embody your Brandman or UMass Global pride and achievements, using only the highest quality materials. The time-honored tradition of a college ring forges a bond with fellow classmates, alumni, and your university.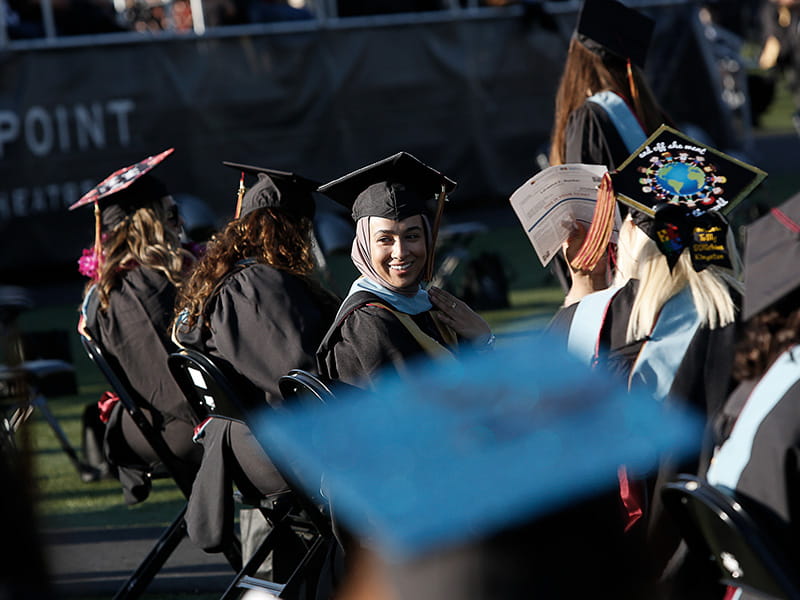 Flowers
The university is happy to partner with the Commencement Group to offer flowers for this year's commencements. To save time and guarantee your purchase, it is recommended that you pre-order your flowers or leis today. Only a limited number of items will be available for purchase at the event for those that do not pre-order. Place your commencement flower pre-order today.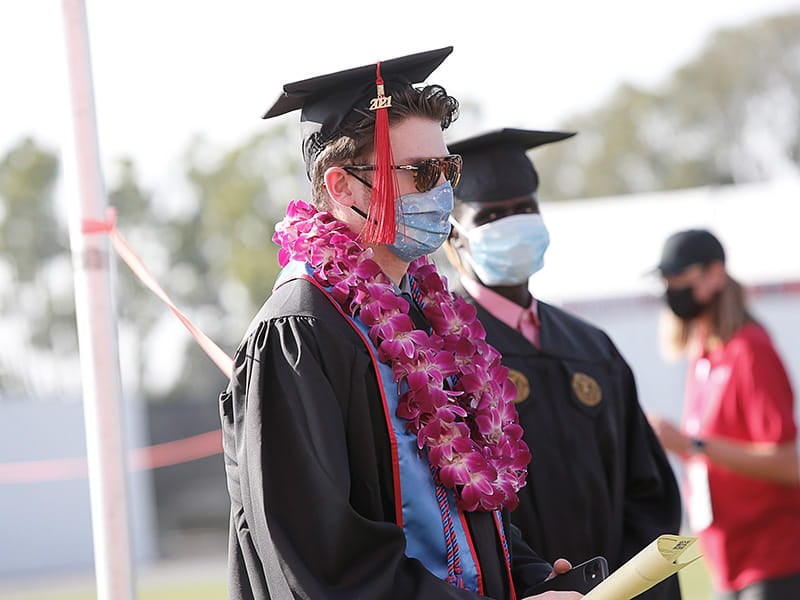 Photos
UMass Global is partnering with trusted professional graduation photographer Pro Pics at the Southern and Northern California ceremonies. ProPics will capture various photos of the graduate, on stage and portrait-style. Pro Pics will notify students via university e-mail that proofs are ready for review with ordering information. Family and guests are not permitted near the stage during the ceremony to take photos. Guests are encouraged to remain in their seats for the duration of the ceremony. Grads should pre-register with Pro Pics to ensure you receive your proofs as quickly as possible.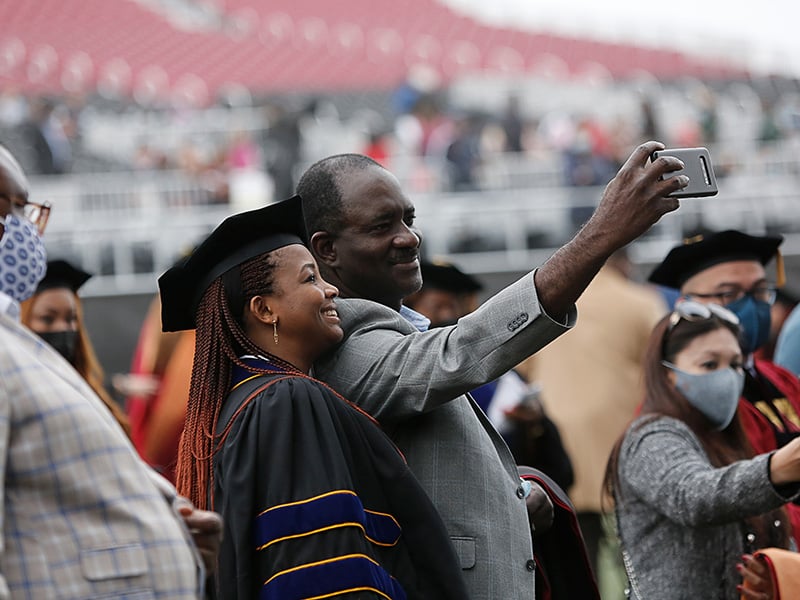 ---
Photo & Video Release
University of Massachusetts Global Commencement and Hooding ceremonies are public events that are videotaped, photographed and recorded for personal and commercial use. By participating in and/or attending these events, you give UMass Global, their affiliate universities, and venue partners permission to use visual images (photo, video, digital in any form) of you for any lawful purpose related to the university or venue's business activities, including marketing, advertising, and promotion. By participating and/or attending these events you understand that you have waived any rights that you may have to inspect or approve of the images or wording in the final product that may be used in connection with the university's business activities.
---
Still have Questions?
Review Commencement FAQs
Email [email protected].