SCHOOL OF Business and Professional Studies
Laura Galloway, Ph.D.
Associate Dean, Curriculum, Instruction and Academic Administration; Associate Professor, Organizational Leadership and Human Resources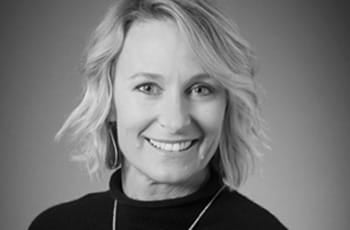 Biography
Dr. Laura Galloway has served in higher education for over 15 years including as a full-time faculty, Instructional Designer, and now serves as the Associate Dean for the School of Business and Professional Studies. Dr. Galloway holds two master's degrees and a PhD. Laura graduated from Chapman University College, now University of Massachusetts Global, with a Master of Arts in Organizational Leadership with an emphasis in Human Resource Management. She received her second master's degree in Human Development and her PhD in Human and Organizational Systems from Fielding Graduate University. Her dissertation and main areas of research are online and blended instructional design, transformational learning and adult learning theory and practice.
Additionally, Laura is a certified executive coach, an instructional designer, and curriculum developer. As a business leader, Dr. Galloway is an organizational consultant and executive coach, specializing in nonprofit organizations. She has served as Director of Human Resources for a school district, manager of a Wellness Clinic and currently serves on the Board of Directors for two nonprofit organizations. Laura has a strong background and extensive experience in innovative talent management and human and organizational development processes. Her expertise includes strategic planning, program development, organizational behavior, systems, organizational and talent development, course design, instructional design methodologies and adult learning theory. Read more about her contributions to the field and UMass Global: The art and science of developing virtual classes for adult learners. She teaches undergraduate and graduate level courses: Supervision and Leadership, Management, Human Resources Management Systems, Teams, Organizational Development and Change, Contemporary Issues in Organizational Leadership and Organizational Analysis.
---
Specialty
Organizational Leadership
Human Resources
Management
---
Education
2016
Ph.D. in Organizational Development
Fielding Graduate University, Santa Barbara, CA
Dissertation:"Expanding spaces for transformation: Supporting social justice in a distributed learning environment"
2013
M.A. in Human Development
Fielding Graduate University, Santa Barbara, CA
Areas of Concentration: Social Justice, Somatics, Adult Education
2000
M.A. in Organizational Leadership
Chapman University College
Area of Concentration: Human Resource Management
---
Scholarly Activities
2016-PRESENT
Business Curriculum Team, Chair
School of Business and Professional Studies, University of Massachusetts Global
2015-PRESENT
General Education Team
University of Massachusetts Global
2014-2015
Competency-Base Program Course Developer
University of Massachusetts Global
2015
Conference Proposal Reviewer
Transformative Learning Conference, Oklahoma City, OK
2016
Conference Proposal Reviewer
International Conference of Education, Hawaii.
---
Professional Experiences
2015-PRESENT
Assistant Dean, School of Business and Professional Studies
University of Massachusetts Global, Irvine, CA
Develop, design and facilitate quality learning experiences for adult college students in the face-to-face, blended and online settings. Courses taught and developed in the Human Resources and Organizational Leadership Bachelor's and Master's degree programs. Specializing in employment law, compliance, human resource program development, team leadership, organizational leadership, organizational development and organizational behavior.
2014-2015
Instructional Designer
University of Massachusetts Global, Irvine, CA
Supervised all curriculum design, development and building efforts with the Center for Instructional Innovation. Duties included, transferring face to face materials to an online format, consulted with subject matter experts to match their design ideas the latest and most effective technology, built all courses using various technologies and while ensuring consistent and high impact developmental experiences through the use of learning technologies. Additionally, I facilitated weekly training and seminars for all UMass Global instructors on use and best practices of teaching technology tools.
2002-2006
Director of Human Resources
Sante Fe Christian Schools, Solana Beach, CA
Under the supervision of the President/Superintendent and in cooperation with the Board of Directors, I planned, organized, and directed all the activities and staff of the Human Resource department, including recruitment and selection, classification and compensation, employee benefits, environmental, health, and safety, organizational development and training, labor relations, affirmative action, compliance and risk management.