In an effort to make online education accessible to millions of working adult students across the United States, Brandman University and University of Massachusetts entered into a strategic partnership announced last year. The two institutions have joined forces to combine their resources, expertise and reach with the launch of University of Massachusetts Global (UMass Global).
This comes at a critical time for the country, as online education is uniquely suited to meet the needs of aspiring students during the COVID-19 pandemic. High-quality, flexible and affordable distance learning alternatives are needed to keep the economic recovery effort moving forward.
We're here to assure our current corporate partners and students that all the upcoming changes are for the better. Keep reading to gain a full understanding of how the transition to UMass Global will affect you.
Understanding the strategic partnership
As University of Massachusetts Global, Brandman's best-in-class online learning programs and proven success in serving working adult learners is strengthened by University of Massachusetts' renowned reputation as a top-ranked U.S. institution with a 150-year heritage of excellence. The ultimate goal of this strategic partnership is to create equitable access to quality higher education for more working adults and nontraditional students of all kinds. Don Kilburn, CEO of UMass Online says:
UMass Global is well-positioned to meet the demands and unique needs of today's adult learner.
"With increased access to high-quality online education for the over 30 million Americans who have some college credit but no degree, and programs and certificate offerings that align with in-demand job skills employers are looking for, graduates will be prepared for the highly competitive and rapidly evolving workforce," he explains.
Through this initiative, we begin a bi-coastal effort to serve the millions of Americans who need access to higher education in order to remain competitive in the workforce. The missions and strengths of Brandman University and University of Massachusetts complement one another and open new doors to provide life-changing educational opportunities to students across the globe.
What benefits can students expect from UMass Global?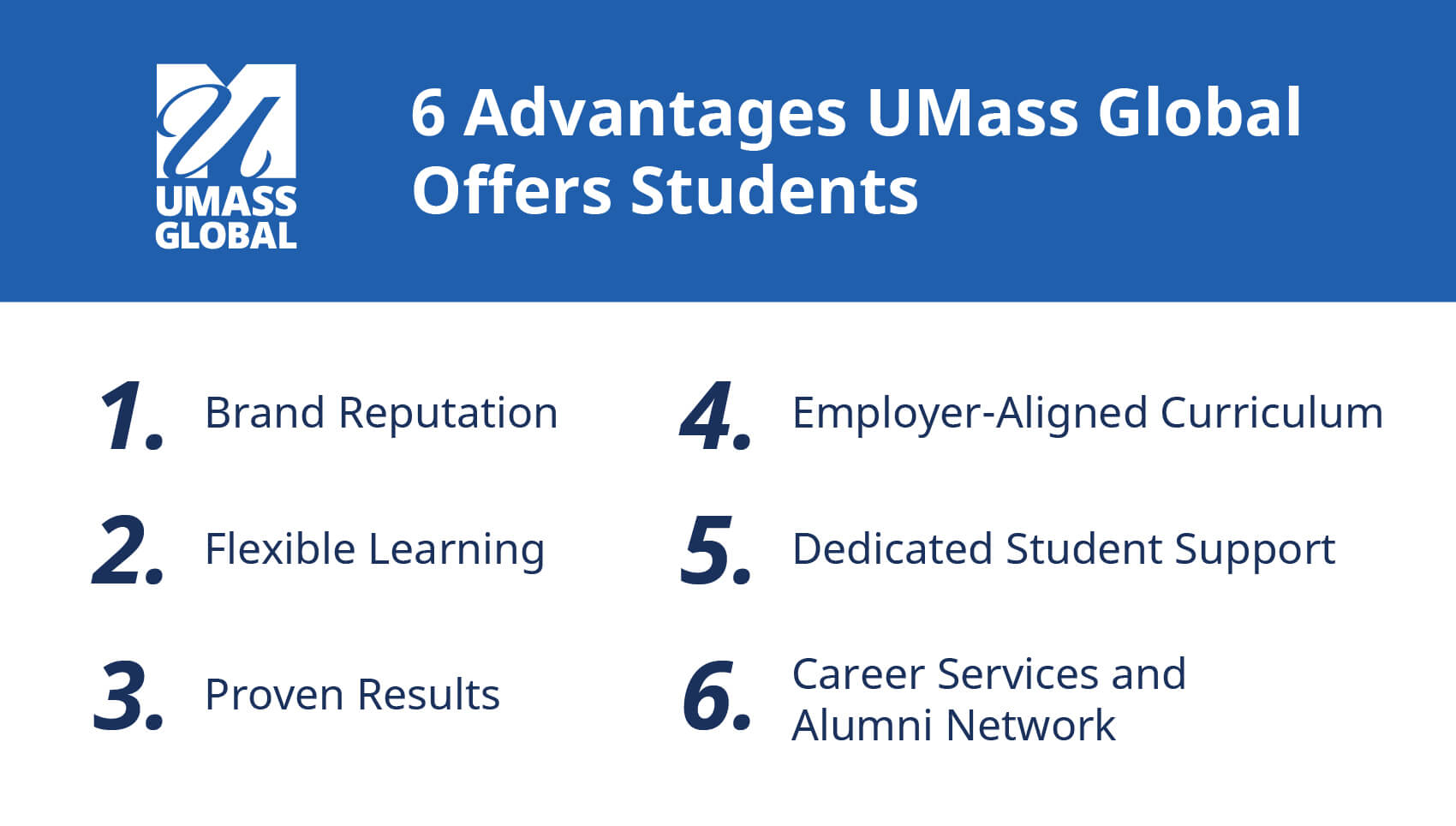 Current and future Brandman University students stand to gain significant benefits from joining the UMass Global community of learners, including:
1. Brand reputation
While Brandman University is well-known on the West coast and nationally recognized as a leader in online education, University of Massachusetts boasts a strong East coast presence, international reputation and consistent ranking as one of the top universities in the country. Multiple campuses appear on the 2021 U.S. News & World Report's list of Top Public Schools and Top National Universities.
With an online degree from University of Massachusetts Global, you will receive the same world-class education as Brandman on-campus students do. UMass Global curricula are just as rigorous as in-person classes, ensuring that any diploma you earn will stand the test of time.
2. Flexible learning
UMass Global will continue Brandman University's demonstrated commitment to flexible learning formats, which are crucial for student success. By recognizing that every learner has unique needs, transportation requirements, budget constraints and schedules, we're better able to support students and cater to their educational journeys. As UMass Global, we will continue to offer both competency-based and course-based programs.
3. Proven results
UMass Global is confident that the Brandman-University of Massachusetts strategic partnership will continue the trajectory of outstanding outcomes for students, including graduation rates that are above the national average and online programs that are consistently recognized as best in the nation by US News and World Report.
Our low student loan default and high referral rates indicate that alumni are putting their degrees to work and are eager to help others achieve the same success. These accolades are a testament to our student-centric philosophy and support services that alumni frequently cite as critical to their success.
4. Employer-aligned curriculum
Brandman University faculty will transition to University of Massachusetts Global – have no fear, your favorite professors are here to stay. UMass Global instructors are scholar-practitioners, the majority of whom hold doctoral degrees and are working in their areas of study. Students benefit from interacting with and learning from experts who have deep understandings of current issues and context in their industries. Our faculty is committed to staying updated and revising the curriculum to provide relevant, real-world instruction that can be applied directly to the workplace.
5. Dedicated student support
From your first day of class to the day you receive your diploma, your success is our number one priority. As a proud private, nonprofit institution, UMass Global is able to focus on the student experience instead of the bottom line. The university embraces its responsibility to provide equitable and affordable access to rigorous, high quality education for all – including, and especially, nontraditional students. UMass Global offers dedicated student support that includes:
Enrollment coaches to help guide students through program selection, understand the admissions process and prepare for a successful start to classes.
Academic advisors who assist each student in building and following through with their education plan.
One Stop specialists to help with everything from a student's account, tuition and fees, ordering textbooks, filling out financial forms and keeping up to date on their aid status.
6. Career services and alumni network
Nontraditional students are often working full-time in addition to raising families, meaning they benefit from expert guidance and advice – especially when it comes to finding a job after graduation. Students and alumni are encouraged to connect with UMass Global's Career Development Center, which offers career coaching to help them explore and secure employment opportunities. Students will also enjoy increased networking opportunities within the expanded alumni community. All partnership agreements that existed under Brandman University will remain intact through this transition. This includes, but is not limited to those with:
Guild Education
Employers providing tuition assistance
Transfer agreements with the California Community College Chancellor's Officer and other colleges
Arrangements with school districts, hospitals and public agencies supporting students' fieldwork assignments
Continue your path to success with UMass Global
We are excited to embark on this next chapter of expanding our educational impact as University of Massachusetts Global. As a current or future student, your success is our top priority. UMass Global Chancellor Gary Brahm, formerly of Brandman University expresses his excitement for the opportunity saying:
UMass Global is leading the way to a better model of higher education for working adults. We have already achieved so much at our West Coast campuses and online programs, and this new venture will greatly enhance our capacity to serve even more people
He continues, "Our affiliation with UMass strengthens our reputation in parts of the country where we are not yet well known. Current students stand to benefit as more people recognize the value of a UMass Global diploma."
Get answers to frequently asked questions about the strategic partnership.
Become a Student
Have questions about enrollment, degree programs, financial aid, or next steps?